New Products, Experiences and Cutting-Edge Tech Await National Hardware Show® Attendees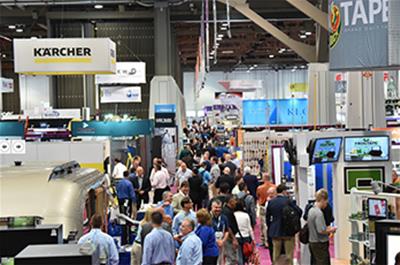 Advance your business by getting a close-up look at new products and tech innovations on display at the 2018 National Hardware Show®! Held at the Las Vegas Convention Center from Tuesday, May 8, through Thursday, May 10, this premier event for the hardware and home improvement industry helps retailers diversify their product offerings, educate themselves on key industry trends and network with other retailers from across the country.
"Now, more than ever, we're focused on ensuring every single National Hardware Show attendee comes away with something new, exciting and informative to advance their business," says Rich Russo, vice president of the National Hardware Show. "We've updated our branding this year, but our goals haven't changed: help retailers stay on top of trends, connect as a community and get the information and tips to help their business continue to thrive."
A New Look, A Renewed Focus
This year, the National Hardware Show has a new look and a renewed focus on delivering what independent retailers need to thrive. The Show team has updated its branding to communicate its mission of keeping retailers in the know and ahead of the competition. The new logo is an abstract representation of a bolt, a common denominator in every facet of hardware and home improvement products. It's also the perfect symbol for the National Hardware Show because much like the bolt, the Show is the tool that powers your business.
Registration for the 2018 National Hardware Show is still open! Register to attend this year's event today at no cost at NHS18.com/Register. Attendees are encouraged to register in advance to avoid the onsite registration fee of $125.
What's New for the 2018 National Hardware Show
This year's National Hardware Show is bigger and better than ever. Along with new and progressive products from more than 2,500 distributors, this year's Show also features innovative technology and immersive experiences to help retailers differentiate their businesses.
Ultimate Backyard
See the latest in grilling, outdoor living and much more at the Ultimate Backyard! Located outside in the Tailgate, Backyard & BBQ section in the Silver Lot and sponsored by Adams USA®, visitors can relax and unwind under the Las Vegas sun, while exploring new outdoor living products and accessories to expand their inventories and help their customers get the most from their own backyards.
Smart Home Virtual Reality Experience
The 2018 National Hardware Show will also introduce the new Smart Home Virtual Reality Experience. Retailers can get an immersive look at the future of home automation and see the products, technology and whole-home integration solutions that customers will soon be asking for. Get a head start on your competition by taking a virtual tour of the home of the future and experiencing these products first-hand.
The Smart Home Virtual Reality Experience features a wide range of exciting products from innovative manufacturers, including Garage Smart Inc., GE Lighting, Jiawei Technology (USA) Ltd., La Crosse Technology Ltd., Ring and Smanos Inc
Operation Tiny Home
Show attendees get a real-time look at what it takes to build a tiny home from scratch at the all-new Operation Tiny Home experience. The National Hardware Show has partnered with Operation Tiny Home to give attendees an exclusive look at the products, tools and techniques tiny home construction crews need to build fully functional and expertly designed small homes.
Zach Giffin, host of FYI's "Tiny Home Nation," will host a furniture workshop in support of The Veterans Village of Las Vegas on May 8. In partnership with Milwaukee Tool, this daylong workshop will give Las Vegas-area veterans hands-on experience with basic furniture design and construction techniques. The Home Shopping Network has donated furnishings for this tiny home, including decor, small appliances and more. Make sure to visit Booth Outdr851 in the Tailgate, Backyard & BBQ area in the Silver Lot to see all the action from start to finish!
2X4's for Hope
Support a worthy cause and learn more about the growing tiny home industry by visiting the 2018 National Hardware Show. Held in conjunction with Operation Tiny Home, 2x4's for Hope will be collecting donations to provide shelter to those in need. National Hardware Show attendees will have the chance to support this nonprofit organization by making a donation and then signing their names and a personal message on 2x4's to be used in future construction projects.