Achieve an Outstanding Finish With Expression From Hamilton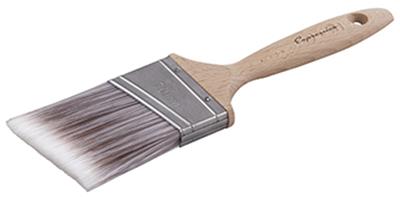 Looking to achieve your most outstanding finish yet? Then look no further than Expression, the ultimate paint brush range, from leading professional decorating tools manufacturer, Hamilton.
Developed in response to changing paint formulations, Expression brushes are designed to provide an exceptional finish with today's water-based paints.
Created in conjunction with Hamilton's Professional Decorators' Panel, to bring valuable insight and practical experience from end users, each and every brush has been independently tested using the latest Topography Analysis in Invenntia, Sweden to ensure a consistently high quality, smooth finish.
Finest design, latest technology, exceptional results
All Expression brushes feature Max Stroke™, a unique synthetic filament blend comprising a mix of different types of filament.
Max Stroke™ delivers a smooth and consistent finish whilst also achieving optimal paint pick-up and release, ensuring the job is completed quickly – put simply, you can use longer brush strokes meaning less trips back to the bucket. New production processes have been adopted to achieve a softer, fuller appearance on the tips of the brushes. This feature guarantees the smoothest and most consistent finish is achieved.
The Expression brush range comprises:-
Expression Flat brush – sizes 1", 1 ½", 2" & 3"
A longer wooden beavertail handle provides a well-balanced brush for comfort and a flexible grip. Remaining comfortable even when used for long periods of time - the ideal addition to your tool box.

Expression Angled brush – sizes 35mm & 70mm
Featuring a longer wooden beavertail handle for a balanced hold, coupled with the MaxStroke™ filament which has been produced to an angled finish, the Expression Angled brushes help achieve accurate cutting in with higher paint pick-up for a smoother, more consistent finish.

Expression Precision brush – sizes 15mm & 20mm
The new Expression Precision brushes have an innovatively designed head for fast painting on profile surfaces. TriTech™ Technology means precise straight lines, corners and details whilst the angle of the filaments means that painting corners has never been so easy. The long wooden handle provides a greater reach for more stability in awkward places and is ideal for close accurate work. The patented cover has been developed to protect the head from damage and can also store the wet brush for up to 72 hours.
Sarah Coussens, brand manager - trade at Hamilton said, 'From the superior Max Stroke™ filament blend through to the specially designed handles, every aspect of the Expression range has been carefully considered and thoughtfully crafted to ensure that our professional painters and decorators acheive incredible results every time.'