58th FEIBP Congress Golf Event at St Andrews, Fife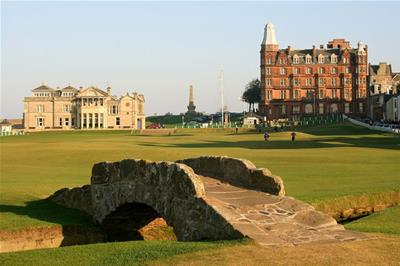 Dear Fellow Golfers,
As many of you many know, next year's FEIBP Congress will be held in Edinburgh, Scotland from 7-10 September 2016. What better way to use the opportunity to enjoy a couple of rounds at the Home of Golf, St Andrews?!
Our golf event will take place on Tuesday 6th and Wednesday 7th September 2016. I have been tasked with arranging hopefully a memorable two days. Due to the popularity of St Andrews, we have to book both accommodation and golf as soon as possible, in order to guarantee availability. Below is some initial information on the approximate costs involved.
Hotel
2 nights at the Ardgowan Hotel. The hotel is located within walking distance of the town centre and main golf clubhouse. I have reserved 10 twin hotel rooms (enough for 20 players, and based on two people sharing a room). Hotel cost per person based on 2 sharing a room (bed and breakfast) GBP 180/EUR 243/USD 275. Deposit required GBP 35 per person to be paid by 18th December 2015. Balance to be paid by 1st August 2016. If people would like to pay for the hotel in full in advance, this is also OK and would make things easier for me!
Golf
Unfortunately we are unable to book tee times on the Old Course but St Andrews has 6 other courses to suit all standards. I can only book tee times from 2nd November. The earlier we book, the better the chance of getting the courses we want, at the times we want. My plan is to play 1 round on the New Course (green fee GBP 75 per person) and 1 round on the Eden Course (GBP 45 per person). The Eden is slightly easier than the New. St Andrews requires full payment of green fees within 14 days of booking.
What do I need to do next?
This is not a business related thing, just a get together of industry friends in a wonderful location and playing some excellent golf courses. Attendance of the FEIBP congress is not mandatory, but your attendance there would also be appreciated. As places are limited and in order to avoid disappointment, I would very much appreciate hearing back from you whether you would like to take part in this event by 31st October 2015. I can then proceed with booking tee times etc.
Please note that once tee times and rooms have been booked, refunds will not be accepted (St Andrews rules, not mine).
I hope to hear from you all soon.
Kind regards.
Andrew McIlroy, Hahl Filaments GmbH
Email: a.mcilroy@hahl-pedex.com
Tel: +49 (0) 7393 53123