Brush Expert at Interbrush 2016: A Resounding Success
The exciting Interbrush 2016 show was enjoyed by a record number of visitors, most of whom visited our stand in its usual prominent place in the foyer. We were kept very busy for most of the show and would like to take this opportunity to extend our thanks to everyone who took the time to stop by and find out more about the new site. We are very pleased to have welcomed a record number of new members and advertisers having taken advantage of the show discount, each of whom we look forward to aiding in the promotion of their company and services.
The Interbrush Show Newspaper, back by popular demand, was once again received with great interest. Containing all of the latest news from the Interbrush 2016 exhibitors, this was offered free of charge to each visitor along with our popular purple bags. We hope you received yours!
Thank you to everyone who took part in our business card drop competition. The daily prizes of a bottle of Cognac were won by Lars Waffenschmidt of Waffenschmidt GmbH, Eduardo Castillo of Grupo Interoceanico and Lucia Beltran of Coinmex.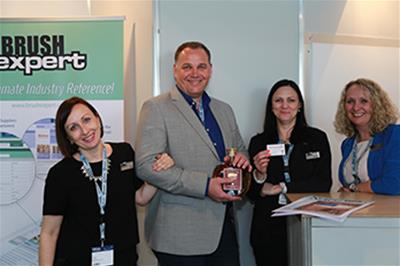 The opportunities are huge when many manufacturers from all around the world can visit a wide range of component and machinery suppliers in one venue and Interbrush 2016 was buzzing with enthusiasm! We know from our own feedback from www.brushexpert.com 's stats that the online Directory is our most popular section with the News and Product Portfolio pages close behind.
The www.brushexpert.com online Directory gives every visitor to the site the opportunity to find companies that make particular products. Whether they are looking for components, machinery or finished products, visitors can source all of their brush-related requirements using this well-structured and user-friendly search tool. Use the Directory to make contact with those at the show and also others who may not have attended this time.
The News pages of www.brushexpert.com are where you will find the very latest industry information, with each article being shared in the twice monthly Newsletter that is circulated to over 4,000 readers. Make sure your voice is heard by sending us your articles for new products, company updates or simply your company profile. Articles are added and circulated free of charge.
If you would like to advertise your products, there are many different ways to do this without breaking your budget. You may wish just to provide your link in the Product Portfolio page or sell ex stock from the Marketplace or spread your banners through the site catching every passer-by. A subscription will offer an upgraded entry in the Directory and bring your name to the top of the product list as well as offer you free networking and promotional possibilities.
Contact Josie Wadd for information on advertising or subscribing and the show discount will be awarded if you make contact before the end of the month. So, make contact today and state Interbrush Discount in the subject. We look forward to hearing from you!
See pictures of Interbrush 2016 in the Image Gallery
Contact Brush Expert
For Advertising & Subscriptions: Josie Wadd – josie@brushexpert.com
For News & Directory enquiries – Alice Castle – alice@brushexpert.com
Tel: +44 (0)1293 539509