Custom Brush Wire Products from Loos & Co Jewel Wire Division
About Jewel Wire
With over 60 years of experience, the Loos and Company Jewel Wire Division has been manufacturing custom brush wire products to perform under the harshest situations. With a unique mixture of metallurgical and structural properties, our brush wire products offer high performance, and customizable solutions for the ever-changing brush industry. Because quality and performance matter, trust the Jewel Wire Division to provide the service and products you need.
Our Brush Wire Products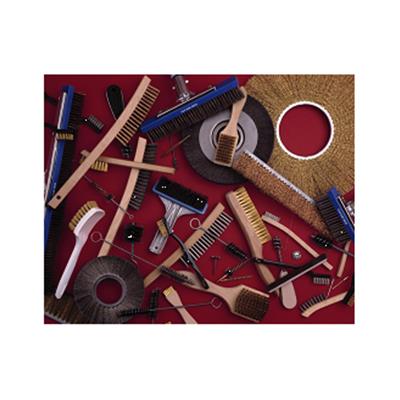 Scratch Brush Wire
Drawn from hard wire, scratch brush wire is used in hand brushes for industrial applications. Sizes for our scratch brush wire often range from .003" to 0.016" and can be manufactured from most metals or alloys. Available in cut lengths or hanks.
Power Brush Wire
To survive the rigors or surface conditioning, power brush wire carries with it a high fatigue life in operation. Often used in manufacturing, power brushes are excellent for removing burrs and sharp edges, greatly increasing safety. With a variety of sizes and materials at our disposal, we can supply brush wire for your surface conditioning needs. Available in cut lengths, hanks, spools, or multistranded on spools.
Crimped Wire
Crimped wire is a must for many applications - crimping the wire increases column strength, thusly improving brush performance. For the toughest jobs, crimped wire is your solution. Available in nearly any metal or alloy, our crimped wire is available in cut lengths, hanks, spools, or multistranded on spools.
Straight and Cut Lengths
Available in a large range of sizes and alloys. We can straighten and cut the wire to your desired length or produce wire hanks.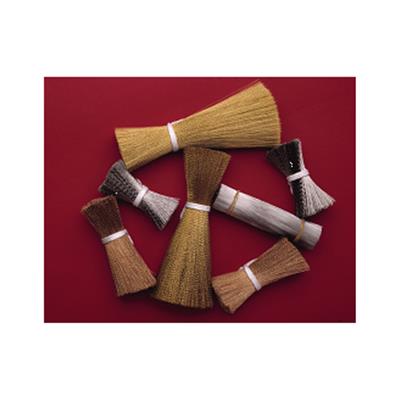 Retaining Wires
Used to attach brush wire filaments inside of brush channels. Retaining wire is typically from 0.028" to 0.125" in diameter. Available in 304, 304HQ, 316 Stainless, and others upon request.
Stranded Wire
Stranded wires are large sets of wires that are grouped together before being put up on spools. We offer these in sizes from .003 to .020 and arrangements with as little as two and as many as 1,400 wires.
Winding Wire
Used to attach bristles to the handle, winding wire is available in many sizes and materials, and can be purchased on spools or coils.
Materials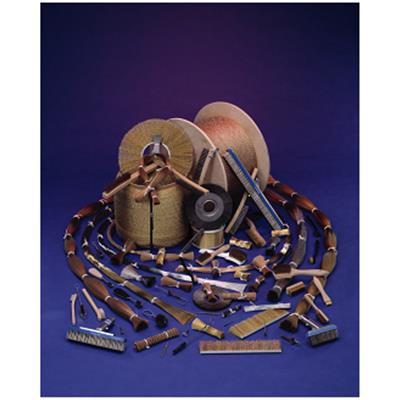 Stainless & Nickel Alloys
We offer our wire in nearly any variety of Stainless Steel, including; 302, 304, 305, 316, as well as Inconel® and many more.
Phosphor Bronze (Phos Bronze)
Also known as Phos Bronze, the alloy used here is often alloy 510. Comprised of 95% copper and 5% tin, this alloy is highly conductive, has a great fatigue life, and a low elastic modulus. Combined with its corrosion resistance and high tensile strength, phospher bronze wire is an excellent choice for wire brushes.
Brass
We offer our wire in Brass, specifically in alloy 260. Comprised of 70% copper and 30% zinc, this corrosion resistant alloy is highly conductive and is the alloy used in the manufacture of all brass brushes.
Quality Commitment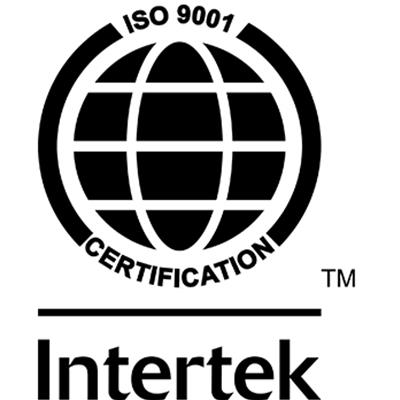 Loos and Company Jewel Wire Division is committed to providing the highest quality products to our customers. On a daily basis, we work to ensure that our quality systems are in compliance with industry standards. In order to demonstrate this commitment to quality, we have obtained our ISO 9001:2008 Certification:
Download our ISO 9001:2008 Certificate
Loos and Company has over 50 years of experience in the wire and cable industry. With our knowledge and experience, we can offer the highest quality products available on the market. As a manufacturer we can provide customized products for any application. If you have any questions or wish to learn more about our products and capabilities, please contact one of our brush wire experts!