Click&RollBox10 from Nespoli: Nominated for the 2018 FEIBP Innovation Award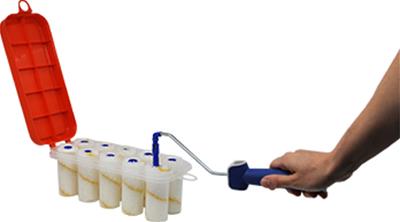 Nespoli Group, leader on the European market of paint tools and accessories, launches a new generation of paint rollers with automatic handle release mechanism, called RollMatic® for the DIY-er or Click&Roll® for the professional market.
RollMatic®/Click&Roll® is an automatic release system of the roller sleeve from the roller handle. It makes changing a sleeve easy and fast. No more dirty hands; this system allows to work neatly. Moreover, the RollMatic® big rollers come with a special storage box. With a simple click, the paint coated roller sleeve can be released into the RollMatic® box. No need to wrap the roller in a plastic foil anymore, or to wash it out at night. The roller sleeve stays moist and ready to use for up to three weeks (depending on the type of paint used).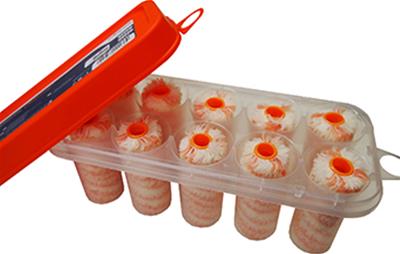 For the mini rollers Nespoli launches the Click&RollBox10 which is a storage box for 10 Click&Roll® mini rollers especially studied for professional painters. The storage box allows to keep the mini rollers moist and ready for use, without cleaning them. A time saving and efficient solution.
Nespoli Group invests each year about 2% of its revenue in Research & Development and brings to market innovations that often set the trend for the entire sector on a regular basis. RollMatic® is another innovation that perfectly answers to the consumer needs of ease of use and time saving. This innovation is a patent of Nespoli Group and is available on the market in the best DIY retail chains.
Nespoli ®, RollMatic®, Click&Roll® are registered trademarks of Nespoli Group.
Nespoli Group is a leading designer and manufacturer of paint tools since 70 years. Nespoli Group markets a full line of innovative paint tools and accessories for do-it-yourself and professional users. With headquarters in Cantù (Italy) Nespoli Group operates in more than 10 countries; has own production sites in Italy, France, Germany, Spain and in China and employs about 1300 people worldwide.