SPOKAR - Czech Household Brushes
The company Spojené kartáčovny a.s., whose history dates back to 1882, is an important European manufacturer and exporter of wide range of brushware goods. It has 400 employes, reaches the turnover of more than 30 mil. EUR. About 70% of the production is sold to export markets.
Product range of the company SPOKAR includes in particular the following product groups:
•
toothbrushes and other brushes for personal hygiene
•
brushes and cleaning supplies for household
•
school and artistic brushes
•
coating and painting supplies
The main product´s share are household brushes – more than 50% of the whole production.
Household brushes are being manufactured under an own company brand name SPOKAR and also for other international companies under private labelling. More than 7 mil. pcs of toilet brush sets, more than 6 mil. pcs of dish brushes, more than 5 mil. pcs of brooms and short-handled brushes and other household items leave the factory every year.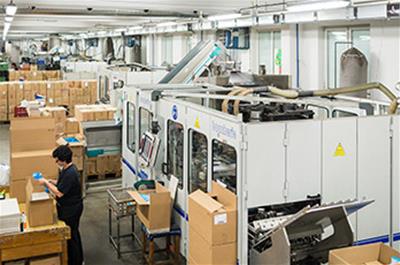 SPOKAR owns modern and the most effective manufacturing technologies. Fibres are tufted on full automatized production lines from Boucherie, Borghi and Zahoransky. For plastic injection mouldings injection presses from Engel, Negri Bossi and Battenfeld are being used (Spojené kartáčovny currently operate 46 one-component injection presses with clamping force from 10 to 800 tons and 8 bi-component injection presses with clamping force in the range of 180 - 800 tons ). Synthetic PP and PET fibres used for tufting are produced directly in the company on an automatic Technoplastic extrusion line.
Spojené kartáčovny a.s. offer its customers complete service in the field of design and manufacturing of injection molds, welding jigs and other types of tools or equipment.
The company also offers production of individual parts or technological operations like for example electro erosive machining, 3-D milling, drilling, grinding, turning, etc.
The company constantly puts emphasis on maximum quality of the products and invests into high performance production technologies and machines.
SPOKAR in Pictures