CSC 2020 Opens Registration: Exhibitors, Attendees and Sponsors Are Invited to Go 'Beyond Green'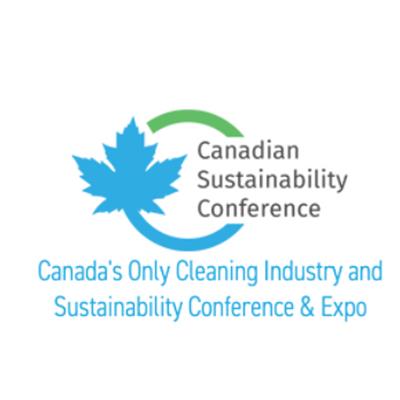 Registration for the 2020 edition of the Canadian Sustainability Conference and Expo (CSC) is now open for attendees, exhibitors, and sponsors. Themed "Beyond Green," the fourth edition of the popular event takes place April 7-8 at the Delta Toronto Airport Conference Centre in Toronto, Canada.
Following the tremendous success of last year's conference, CSC 2020 is expected to attract 90-plus of the premier manufacturers in the cleaning, infection prevention, purchasing and sustainability industries. Eager to experience firsthand the latest innovations available in these industries will be an estimated 1,500 leaders from the education, health care, government, building service contractor, integrated facility services, property management and related sectors.
In addition to the exciting Expo floor, these CEOs, directors, managers, supervisors and other top-level attendees will have the opportunity to learn from—and be inspired by—CSC 2020's outstanding line up of keynote speakers and subject-matter experts. Attendees will also be able to capitalize on the year's No. 1 opportunity to network with peers from throughout Canada and the north/northeastern United States.
History & Hosts
CSC 2020, which represents the successful merger of the former Canadian Cleaning Conference and earlier CSC editions, is hosted by MCL Sustainable Cleaning Solutions and its strategic partner, the Canadian Association of Environmental Management (CAEM). "We were extremely pleased with the success of CSC 2019," says MCL Sustainable Cleaning Solutions CEO Warren Jacobs. "For 2020, we have enlarged the Expo show floor, secured three outstanding keynote speakers and a host of top-notch subject-matter experts, and expanded our networking opportunities. These changes—plus the growing reputation of CSC as the premier show in Canada for cleaning, infection prevention and the rapidly growing sustainability market—has sparked increased interest from exhibitors, sponsors and attendees. In fact, we are extremely pleased to see that CSC 2020 is already on track to exceed 2019—and all expectations."
Jacobs believes that part of this early interest can be attributed to the strong new strategic partnership CSC has forged with CAEM.
"We are extremely pleased about the opportunity to partner with CSC and promote our common goals of increasing awareness of the vital roles cleaning, infection prevention and sustainability play in our society," says CAEM President Keith Sopha. "A show the caliber of CSC helps us all through its educational offerings, showcasing of new innovations and vital networking opportunities. It provides the valuable three "I's"—information, insight and inspiration—to help us make our facilities healthier and more sustainable, which is not only the right thing to do, but also helps us attract workers and improve our bottom lines."
Outstanding Keynotes
CSC 2020 will feature three high-profile keynote speakers:
Tuesday, April 7, morning starts off at 9:00 a.m. with keynote Dr. Dave Williams. A legendary Canadian astronaut, aquanaut, former health care CEO, scientist, author and leadership expert, Williams is sure to inspire and motivate. A true Canadian hero with an extensive list of merit awards and honors, Williams is famous for his compelling, down-to-earth approach to achieving peak performance, risk management, leadership and environmental stewardship.
He will help attendees develop a similar culture in their own operations, by illustrating how adopting innovations, following best practices, practicing fiscal responsibility and focusing on customer/patient care can improve staff and client satisfaction—and the bottom line.
Wednesday kicks off with Canadian football league (CFL) Hall of Famer and foundation founder Michael "Pinball" Clemons, a Canadian icon on and off the field. Standing 5 feet 6 inches tall and weighing in at 170 pounds—exceptionally small by football standards— Clemons led a spectacular 12-year CFL career with the Toronto Argonauts that includes earning three Grey Cups and setting records for everything from career pass receptions to kickoff return yards. Looking to give back, Clemons founded the Michael Pinball Clemons Foundation, an organization that invests in youth education. So far, the foundation has awarded more than 176 scholarships, placed 200 children in youth mentoring programs and built 231school houses to host 9,000 students annually in seven developing countries. A lively and passionate speaker, Clemons will share his experience in overcoming obstacles and achieving success through personal perseverance and teamwork and show how those who want to can give back to their communities.
Wednesday afternoon, invited back by popular demand from 2019, is the charismatic tech evangelist, TV/radio personality, author and YouTube mega-host Marc Saltzman. With three million views—and counting—on his YouTube channel, Saltzman hosts #GearUP on WatchMojo—one of the most popular YouTube channels with more than 20 billion views and 16 million subscribers. He also hosts Gear Guide, a tech-focused video that airs daily at Cineplex theatres across the country. He has authored 16 books, writes and hosts four radio shows and is the host and producer of Tech it Out, which is syndicated across 277 stations.
At 4:15, Saltzman will share his experience and insights regarding what leaders need to know to attain and maintain success in today's technological world.
And these are just the keynotes! Visit sustainabilityconference.ca in the coming weeks for the full education schedule on the key topics of: Sustainability and Social Responsibility, Leadership and Next Generation Strategies and Cleaning and Infection Prevention and Control.
And the Winners Are…
At 4:00 p.m. Wednesday, immediately prior to his presentation, Saltzman will take the stage to announce the winners of the CSC 2020's Best Cleaning Product Award, Best Infection Prevention & Control Award and Most Sustainable Product Award as voted on by attendees during the conference. After Saltzman's presentation, attendees will have an opportunity to meet and congratulate the winners, who will have earned the bragging—and promotional—rights to capturing these prestigious awards.
Networking, Networking, Networking
CSC is the top event in Canada for leaders in cleaning, infection prevention and control, and sustainability to gather to exchange information and ideas aimed at developing and executing successful new business strategies. The Tuesday evening Networking Reception provides a wonderful chance to build new and strengthen existing relationships. But it is far from the only networking opportunity the two-day conference offers. Participants will be able to talk one-on-one with vendors and customers on the Expo show floor; attend informative and motivating presentations with colleagues at the CEO director, manager and supervisor level; congratulate award winners; and overall have the best opportunity of the year to mix and mingle with leaders like themselves.