Custom Wire Brush Solutions for Maximum Performance by Industrial Brush Company
75 years of experience in the design, manufacture and implementation of custom industrial brush solutions

The Industrial Brush Company in Fairfield, New Jersey has over 75 years of experience with designing, manufacturing, and implementing custom brush solutions for customers worldwide. We offer a complete line of wide face cylinder brushes from four inches (4") wide up to two-hundred twenty inches (220") wide. We specialize in wire brushes that provide maximum performance, repeatability, and brush-life for even the heaviest industrial applications.
The robust performance of our wire brushes is in part due to the double band channel (DBC) winding system. Combine this winding system with our expertly built and balanced cores, and it creates a brush that excels in even the most demanding operating conditions. DBC brushes are commonly used for surface conditioning and deburring of metal, wood, composites and more.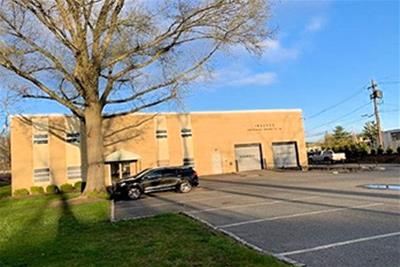 Our wire brushes are used in a wide variety of applications, including to finish primary metals, distress and structure wood and composites, and clean belts in high-temperature environments. Our years of combined experience providing brush solutions to original equipment manufacturers and customers alike goes into the design of each custom-brush. Customers in need of rotary wire brushes keep coming back because our brushes work better and last longer than the industry standard.
Double Band Channel vs. Single Band Channel
As the saying goes, two is better than one, and that holds true for double band channel brushes. DBC winding better secures each bristle in the channel than the similar single band channel (commonly referred to as strip brushes) because the DBC technology creates more tension to secure the bristle and does so over a wider surface area.
DBC brushes sandwich bristles between two metal strips of material; a wide bottom-strip with teeth along the edges and a top strip, together referred to as the "banding". The teeth in the bottom-band help to ensure even distribution of the bristles and the top band helps to hold the bristles in place during the forming process. In the forming process, the bottom teeth are folded over the top band and the channel assembly is sent through progressive forming rollers which fold the banding in half along the seam. This is done with high pressure and as a result the final band shape is densely packed with bristle and is very rigid compared to single band systems. The single band system uses a bottom band which is folded around a center wire, leaving it more susceptible to bristle loss or even brush failure from vibration or impacts. Double band channel brushes are ideal for industrial applications that require aggressive brushing. Maximum density is achieved that allows the brush take abuse and still produce consistent results.
Industrial Brush Company - Double Band Channel






Core Building
A brush is only as good as the core that it is built on. Our in-house machine shop is outfitted with overhead cranes, multi-axis CNC equipment, advanced welding and dynamic-balancing capabilities allows us to manufacture new cores in almost any configuration to meet the demands of the application. Our cores are built to last at least as long as the machine it is in and can be sent back to our facility for reconditioning and recovering for long-term cost savings.
Our smaller wire brushes can be provided as disposable sleeve designs for more convenient maintenance.
Our cores can be made in a selection of wall thicknesses with solid-wall or perforated-wall tubing for coolant flow through. The ability to manufacture the entire brush provides us more precise control of the design and allows us to better optimize the final product. The in-house core building process eliminates an extra link in the supply chain and ensures that the final brush will run smoothly right out of the box. Our experienced on-staff engineers work to provide a design and operating parameters that customers feel confident in.
Industrial Brush Company - Core Building






Brush Options
Industrial Brush Company wire brushes are wound on Wöhler Double-Band Channel winding machines. Our wire brushes can be made with carbon steel, stainless steel, brass, and brass coated carbon steel filaments. Filament diameters are available as single strands from .004" (.1mm) to .025" (.65mm) or up to .075" (1.9mm) as braided wires.
DBC winding provides a strong and consistent hold on the filament regardless of its diameter. The banding can be made of galvanized steel or stainless-steel channel to meet customer requirements. Wire filament lengths are available from an inch, to over 3" long without loss in density or an increased risk of shedding wires. Our winding machines give us the ability to modify the winding pitch on the brush, ranging from 3/8" (close-wound) pitch to over 2.5" (very open-wound) pitch. The brush density and wire stiffness are essential factors in making a brush that lasts for the most demanding applications. Our application expertise will result in a wire brush with stable brushing performance over the useful live of the brush.
Industrial Brush Company - Brush Options






Test Lab
The Industrial Brush Company offers product testing services to customers with our in-house testing lab. We have dozens of different test brushes in the lab allowing us to test most any dry application that is brought to us. Testing can be done to proof a new concept, match a current finish, as investment validation, or to simply optimize operating parameters. The goal in testing is to give our customers the confidence and information to properly implement our products within their process.
A detailed report is provided which includes a list of the operating parameters with a synopsis of the testing and explanations as to why certain parameter combinations were used. This information is critical to ensure a better understanding of the process. Most importantly, it allows for immediate optimal and repeatable performance once our brush is integrated into the customer's process.
Industrial Brush Company - Test Lab






Conclusion
The Industrial Brush Company can work with you and your customers to provide the best wide-face cylinder brush solutions that are outside the scope of your capabilities. We will provide your team with a quote, drawing of the design, and any relevant information needed to help the customer in as little as 24 hours. All our brushes are designed and manufactured in Fairfield, New Jersey, USA.