The Award-Winning V12 Concept for Paintbrushes with Registered "Click-System" from Wistoba Pinselfabrik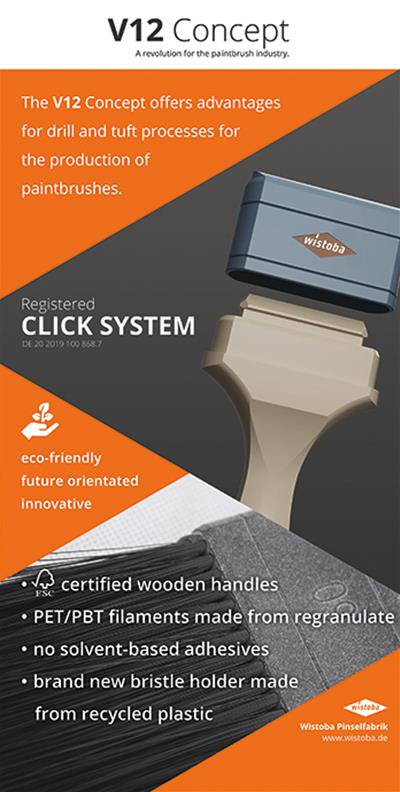 Wistoba Pinselfabrik, European market-leader in the production of professional paintbrushes with a long history of over 100 years, was proud to present its new V12 Concept at this year's FEIBP (European Brushware Federation) Congress. This brand new, eco-friendly, original product was nominated for the FEIBP's Innovation Award and we are pleased to announce that it was the joint winner of this prestigious annual accolade.
With regards to the origins of the idea, inventor, Dipl.Ing. Arndt W. Stollberg, Wistoba's Company Director, says, "Every morning and evening, when I brushed my teeth, I would look at my toothbrush and wonder why nobody uses this production process for professional paintbrushes."
"The drilling and tufting process has been around for more than 100 years and you can produce brooms, household brushes, toothbrushes, shoe brushes and even toilet brushes using this method. Even the paintbrush industry also has a very old and successful history of using the same manufacturing process BUT, in former times, we all used natural bristles. Nowadays, the majority of paintbrushes are produced with synthetic filaments. We need something innovative! A revolution! It was for this reason that I developed a new system, offering all the advantages of the drill and tuft process for the production of paintbrushes."
When looking at the key features that all professional painters would require from their paintbrush, Arndt determined that their ideal product would want to have:
a plain wooden handle; definitely not plastic because of sweaty hands
a high quality ferrule
a design approximating that of their well-known and long-used paintbrush brand
no bristle loss
no epoxy glues
easy cleaning potential
With these aims in mind, the registered "Click-System" was born.
Arndt explains that "This bristle holder is made from recycled plastic and can be used in all drilling and tufting machines. The ergonomic handle is made of FSC certified wood, with both parts fitting together without the use of solvent-basted epoxy adhesives. In all, this is a very eco-friendly system: The lovely Greta Thünberg would be very proud of me."
The filament is pushed down in an arrangement like the letter 'V' in a 12. range ferrule hence the name the "V12 Concept", although you can use it with 9. and 6. range ferrules also.
The company Wistoba Pinselfabrik has been producing paintbrushes throughout its 3 generations of family leadership. Since its inception in 1917, the company has placed the highest emphases on superior production and continuous quality improvements which have, today, made the Wistoba brand synonymous with high-quality professional painting tools which are known across the globe.
Self-developed production machines will continue to ensure a class of product that is second to none. In addition, Wistoba uses the most valuable things that a German brush manufacturer can possess: The experienced hands of passionate and longtime employees. This knowledge has, in turn, led to a precision of work that is reflected in the quality of the products' details which are perhaps not visible to everyone, but very noticeable to the professional user, because you only do good work with good tools. And the V12 Concept truly is a testament to Wistoba's dedication and pursuit for excellence.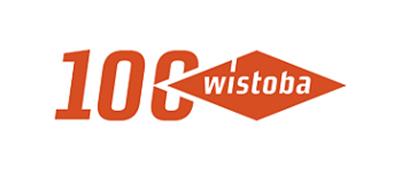 For more information, please contact Wistoba via the company name link below: