Best-Selling Lobby Dust Pan "Made in USA" from Monahan Partners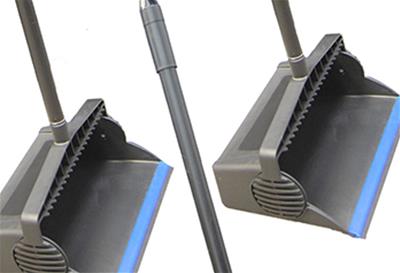 We are all familiar with the use of a lobby dust pan and broom set to clean lobbies and public places all over the USA. There is a simple reason why this combination is used almost universally. No one likes to bend over - especially for hours on end. And especially the older you get.
Monahan Partners has a terrific lobby dust pan - over 1,000,000 sold into the commercial market. When this dust pan was designed, it was made with features which will easily accommodate the household market. It has a slim profile so it will fit into any broom closet. It has a swivel hanging cap to make the storage even easier, it has a clip to keep the broom with the lobby dust pan, it has a rubber ramp that lays perfectly flat on the floor so no crumbs will slide underneath it, it will stand alone with the handle in a perpendicular position, and the handle swivels back toward the sweeper (a patented feature) to make sure the dust pan handle doesn't get in the way of the sweeping motion.

And better yet, the lobby dust pan is made in the USA, is competitively priced, and is just the right tool for our surging senior population - and for any sweepers who don't like the strain of current sweeping systems.
Please contact Kevin Monahan - (full contact details, web and email address available via the company name link below) - for a free sample, pricing and more information.