2018 ISSA Innovation Award Program Adds Entries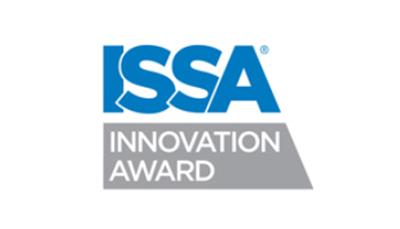 Voting continues for contenders—including several last-minute entries—in the 2018 ISSA Innovation Award Program. The program recognizes the cleaning industry's most pioneering products and services as voted on by cleaning-industry professionals.
Entries are organized into five categories: Cleaning Agents, Dispensers, Equipment, Services and Technology, and Supplies and Accessories. Each entry is competing for honors in its own category and, ultimately, the 2018 ISSA Innovation of the Year Award. "The entries for 2018 are exciting visions for the cleaning industry going forward," said ISSA Executive Director John Barrett. "The ISSA Innovation Award Program is a positive way to identify and spotlight new trends in the cleaning industry and the companies that produce these advances."
The October 15, 2018, voting deadline is fast approaching. All distributors, building service contractors, in house service professionals, and residential cleaners are urged to cast their votes at www.issa.com/vote.
Vote and Win
Online voters are automatically entered monthly drawings; five winners each month from August through October receive a US$50 prepaid MasterCard.
August winners are:
Terry Clark – Glory Professional Cleaning Service
Jack Robertson – Robertson Sales Associates
Paul Sumner – Mancon, Inc.
Rick VanderKoy – Secure Clean Building Services, Inc.
Hal Warren – COS Business Products
The Big Reveal
The winners of the ISSA Innovation Category awards will be announced at the Team ISSA Welcome Reception the evening of Monday, October 29, 2018, at the Fairmont Hotel in Dallas TX, kicking off the ISSA Show North America 2018, which takes place October 31-November 1.
The prestigious 2018 ISSA Innovation of the Year Award will be determined based on a combination of the online voting results and the ballots of a panel of judges, including cleaning industry experts, media, and veteran ISSA member representatives. All awards will be presented during the 2018 ISSA Innovation Awards Ceremony taking place at 1:00 p.m. (CT) Thursday, November 1, in the ISSA Innovation Marketplace, Booth 3405.
Complete List of 2018 Entries
The entries are listed below in alphabetical order and preceded by booth number:
Cleaning Agents
2649 - 2XL Corp. – FORCE Wipes
3933 - 3M Commercial Solutions Division – Scotch-Brite™ Clean & Shine Pad
6607 - Charlotte Products Ltd. – Enviro-Solutions® Terrazzo & Concrete Floor Care Program
3108 - Clorox Professional Products Co. – Clorox® Disinfecting Bio Stain & Odor Remover
3629 - Ecolab, Inc. – No/Low Maintenance Flooring Cleaner & Protector
3819 - i-team global – i-protect®
5426 - Procter & Gamble Professional – Mr. Clean & Scotchguard™
3945 - Reckitt Benckiser Professional – Lysol Daily Cleanser
6037 - Spartan Chemical Co., Inc. – Clean by Peroxy® Multi Surface Wipes
Dispensers
3231 - Carlisle Sanitary Maintenance Products/ San Jamar – Hybrid Roll Towel Dispenser
3927 - DEMA Engineering Co. – Fusion Water Valve
6631 - Essity Professional Hygiene North America, LLC – Tork PeakServe Continuous™ Towel Refill & System
4144 - Hospeco – The Complete Menstrual Care System for Your Facility
6701 - Hydro Systems Co. – EvoClean
5819 - SC Johnson Professional – TruShot- Disinfectant Mobile Dispensing System
2552 - Creative Commodities, LLC – TouchlessTM Toilet Paper Dispenser With Remote Monitoring & Predictive Analytics
Equipment
4109 - Best Living Systems, LLC – MCI PureSynAIRg™ Air/Surface Purifier
5830 - Kärcher North America – KIRA B50 Intelligent Cleaning Robot
5416 - Makita USA, Inc. – Cordless Backpack Vacuum
3252 - OdorStop – OdorStop OS12500 - 12 Plate Ozone Generator With 2000 CFM
3252 - OdorStop – OdorStop OS4500UV2 - Ozone Generator/UV Air Cleaner With 4 Ozone Plates, UV & Charcoal Filter
5717 - ProTeam, Inc. – ProTeam® FreeFlex® Cordless/Corded Upright Vacuum
3633 - Sanitaire – EON™ ALLERGEN Upright Vacuum
1833 - Square Scrub – Square Scrub PIVOT
4841 - TRIOOO TECHNOLOGY – Triooo Cleaning Robotics
Services & Technology
4105 - Clean Smarts – Software
5901 - Diversey – Remote Guidance
3629 - Ecolab, Inc. – Partner Training Program
3427 - GP PRO (Georgia-Pacific) – KOLO™ Smart Monitoring System
1458 - Speed Cleaning – Speed Cleaning™ Employee Training System
4524 - StoreTech – FlexiCount Washroom Monitor
5203 - TEAM Software, Inc. – Smart-fit Scheduler with Flex Time
Supplies & Accessories
3933 - 3M Commercial Solutions Division – 3M™ Easy Trap™ Disposable Floor Mop Pad
4736 - J. Racenstein Co., LLC – Towel Viper
5830 - Kärcher North America – WVP 10 Window Vac
1742 - Midwest Rubber Service & Supply Co. – Airoflex™ squeegee
3314 - Pinnacle Product Solutions, Inc. - The Cord Glide
3605 - Rubbermaid Commercial Products, Inc. – New Generation WaveBrake
3605 - Rubbermaid Commercial Products, Inc. – Disposable Wet Mop
4345 - Unger Enterprises, LLC – Unger Excella™
Up Close & Personal
Entries in the 2018 ISSA Innovation Award Program will be on display in the ISSA Innovation Marketplace, Booth 3405, October 30-November 1, during the three days when the exhibition floor is open during ISSA Show North America 2018. Visitors to the booth will have their badges scanned and be automatically entered to win the grand prize: a four-night hotel stay and All-Access Pass registration to ISSA Show North America 2019 in Las Vegas, NV, November 18–21, 2019.
"On behalf of ISSA staff and the entire cleaning industry, I thank the innovative companies who are participating in the 2018 ISSA Innovation Award Program," Barrett stated. "Their efforts help drive our industry forward and position cleaning as an investment in human health, the environment, and their own bottom lines."