Brush Expert visits National Painting and Decorating Show at the Ricoh Arena, Coventry UK
This ever-popular show is aimed at the Professional decorator and DIY enthusiasts where visitors come away loaded with special offers, can buy the latest products and be informed of the latest product information and techniques. The highly rated show, in fact the only one in England, is extremely well supported and this year has shown the biggest ever first day attendance!
Before visiting the main show, Josie Wadd met Phillipa Pawson of
Hamilton
in their information room where they explained about the newly launched training platform that is aimed at young decorators via schools and colleges available on their mobile phones. Decorators and tutors can obtain skills and product information through various modules. Each module is assessed, and certificates obtained along with various promotions for those that succeed at the end of each module. This 'platform' will introduce new modules throughout the year. Josie then entered the show on its second day and was able to meet the brush makers there; among them were: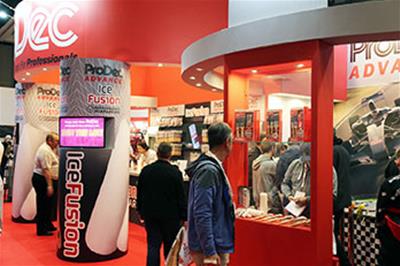 Gary Bent of Prodec, showcased their latest Ice Fusion brush. Following last year's spectacularly successful launch of the Ice Fusion roller this new brush has filaments that are tapered the full length, a seamless stainless-steel ferrule both of which allow a much smoother stroke with more even paint release. This new brush will be in full production in 2019.
Pioneer Brush Co. Ltd offered their full range of professional painting brushes and tools designed for efficiency, speed and great results. They showed their brush range in packs of two or three different sizes wrapped in recyclable cardboard see-through covers. The packs of brushes are made for sale in ready-for-sale storage stands, also made from recyclable cardboard. As you may know the Pioneer brushes are made from M66 the Pioneer Brush's special 'synthetic boar bristle' ideal for all types of paint.
Bob Shaw of
Nour
handcrafted brushes showed their line of brushes alongside the brushes of RollRoy, master roller manufacturers from Holland.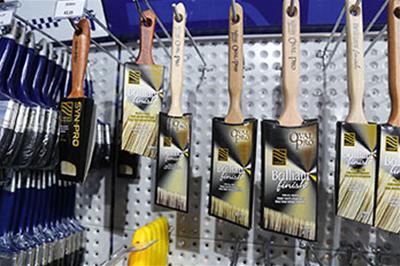 GoPaint, part of Hildering Packaging which has supplied high-quality (can) packaging to paint manufacturers and the chemical industry since 1958 but since 2004 have successfully7 launched products that were completely new. This year's item in the spotlight was the 'Roll and Go tray 12'. The raised rolling surface allows excess paint to flow back into the reservoir for the better paint distribution to the roller. Park the roller frame with its handle over the edge or in the second compartment and get plenty of access to the paint reservoir for your brush. You can also use the second taint reservoir for a small amount of paint in another colour for adding details and creating decorative artwork. The tray has a disposable liner for longer life of the tray. Both tray and liners are 100% recyclable.
Purdy UK
shared their stand with the newly acquired Ronseal company. The Purdy range of professional quality brushes and rollers were on display. The range will show improvements in 2019 Josie was told with a wider range than before. In the spotlight this year are the new bent pole scraper, the mini roller sleeves at 4.5 – 6.5 inches for use on wood and metal work to achieve a 'spray' finish. Also, for Purdy this year is the new jumbo-sized Bucket / roller tray on recyclable castors for easy manoeuvrability. It comes with recyclable disposable tray liners and a lid for safe storage.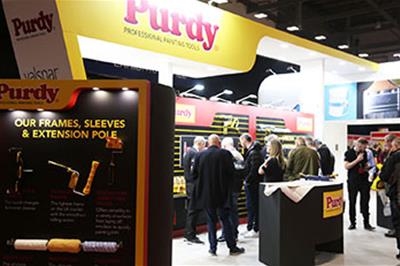 EcoEzee offered their full range of recyclable pots and accessories. There is no plastic used and each item is made from sustainable materials.
Staallmeester the Dutch paintbrush manufacturers showed their Prohybrid Series of 3 separate brush styles. The pointed brush, the round sash brush and the bent fitch brush. The Hybrid filament ensures that the brushes can be used for both oil based and water based paints with equal effect.
Next year's National Painting and Decorating show will be announced in due course.
Further information on any of the above products can be found by contacting each of the above companies using their name in the Quick Search in the
Brush Directory
or contact josie@brushexpert.com for assistance.
National Painting & Decorating Show 2018 Image gallery