Creativeworld 2018: the showcase of the DIY world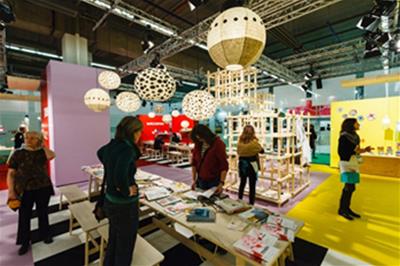 Creativeworld, the world's leading trade fair for the hobby, crafts and artists' requisites sector, is a business venue, order fair, innovation hotspot and trend platform in one. To be held in Halls 4.1 and 4.2 of Frankfurt Fair and Exhibition Centre from 27 to 30 January 2018, it will bring together over 300 manufacturers from all over the world.
Creativity and handicrafts are more than a hobby. They are a trend for every generation. Making and painting things promotes children's motor skills and intellectual development. Adults pursue the trend to colouring-in or hand-lettering to find a counterweight to the stress of modern life. Handicrafts are popular among senior citizens because they help maintain fitness, encourage communication and offer an infinite range of opportunities. In a nutshell: creativity is booming and, with it, the Creativeworld trade fair.
All leading manufacturers have now signed up for Creativeworld 2018. The hobby and handicrafts product segment is represented by renowned exhibitors such as Creative Company from Denmark, Sissix-Ellision Europe from the United Kingdom and German manufacturers Buntpapierfabrik Ludwig Bähr and Eberhard Faber. In this segment, visitors will find all products for making-it-yourself, from paints, via felt, to handicrafts books.
Buyers will find wool and yarns for knitting, crocheting and embroidering, as well as fabrics for sewing, in the handicrafts and textile crafting product segments. There, the exhibitors presenting their innovations include Stafil and Rodomonte Scali from Italy and Hotex from Germany.
In the decorative handicrafts the exhibitors include Artemio from Belgium, Efco from Germany and Glorex from Switzerland. The range of products on show stretches from ribbons and decoration articles, via florists' materials and gift-wrapping materials, to mosaics.
From the world of graphic arts and artists' requisites, registrations have been received from, for example, Colart International from the United Kingdom, Royal Talens from the Netherlands, Pebeo and Clairefontaine from France and the German companies Edding, Marabu, Lyra, C.Kreul and H. Schmincke. At Creativeworld, they will be showing an extensive range of high-grade paints and papers, including brushes and easels, as well as coloured pencils and street-art articles. In the latter case, manufacturers such as Montana Cans from Germany, Montana Colors and NBQ from Spain will be showing their latest colours and materials.
Also at Creativeworld, trade visitors will find leading, internationally renowned full-range suppliers, such as Rayher Hobby, Rico Design, Max Bringmann and Hobbygross Erler.
Creativeworld a magnet for the sector's top decision makers
Every year, Creativeworld attracts more than 8,600 trade visitors to Frankfurt am Main – 66 percent of them from outside Germany in 2017. Over recent years, the leading trade fair has developed into the foremost magnet for top decision makers from the sector's wholesale and retail trades. This applies equally to DIY markets and garden centres, the internet and mail-order trade and commercial consumers, such as art academies, educational institutes and care facilities. Products such as creative and handicrafts materials in user-friendly sets form an interesting supplementary assortment for toy and book shops, for food retailers and drug stores. More and more buyers from these segments are using Creativeworld as an order platform. "For specialist retailers in particular, it is important to test the latest techniques and materials. And Creativeworld gives them the opportunity to try out products so they can present the products and techniques professionally to customers in their shop and offer well-founded advice", says Michael Reichhold.
Creativeworld events: modern, informative, innovative and trendy
Creativeworld is inspiring, lively and future oriented. There, trade buyers can be sure of finding everything the creative heart desires. At the exhibitors' stands, they can test, paint, cut, design jewellery, wrap and hold discussions with colleagues. Moreover, in the extensive complementary programme of events, the most innovative products are singled out for awards, the latest trends revealed and exciting subjects, such as street art, demonstrated.
Street art is trending and has gained an increasingly large following over recent years. Creativeworld is expanding this segment because it offers a variety of new opportunities for the retail trade.
"We are developing a special show on this trendy subject in cooperation with street artist Akim Walta. Our aim is to present products and materials, and to show retailers how to position street-art products in their shops and, therefore, attract new target groups. The individual creative segments are growing together and offering a variety of synergistic effects for the trade", says Michael Reichhold. Trade visitors are invited to test the products for themselves and try out the various techniques at the Street Art special show in Hall 4.2 and at the workshop in the Creativeworld Forum.
The Creativeworld Forum in Hall 4.2 offers a wide variety of workshops on new techniques and materials, as well as product demonstrations. There, visitors can anticipate a varied programme of events at no extra cost daily from 10.00 hrs throughout the fair.
The Forum will also be the setting for the presentation of the Creative Impulse Awards, which Messe Frankfurt gives in collaboration with Hobby Art magazine. From November, manufacturers can enter their innovative products for the coveted awards in four categories (Creative Product, Creative Tool, Complete Set and Creative Book of the Year). All entries will be on show in a special exhibition in Hall 4.2 on all days of the fair.
An absolute must for all manufacturers and visitors is the Creativeworld Trend Show in Hall 4.1 where the designers from Stilbüro bora.herke.palmisano, present the latest techniques and products on behalf of Messe Frankfurt. In three Trend Worlds, they show what the coming DIY season has to offer and, at the Trend Show Workstation, visitors can craft and test the various trends.
The Creativeworld complementary programme of events has something for everyone. And anyone looking for even more creative input is sure to be successful at the exhibition stands where international manufacturers present their latest products and encourage visitors to try them for themselves.