Invitation to Apply for the Tendence Promotional Programme Talents by March 28
Original, skillful, different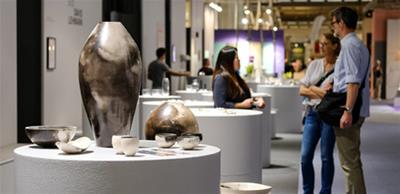 The future is shaped by talents. This is why creative ideas, new products and innovative designs are continually in demand. For 2019 Tendence is inviting all up-and-coming designers, artisans and jewellery creators to apply for the Talents area of the trade fair. The programme is open to everyone who is not yet established commercially within the industry.
The promotional programme Talents at Tendence provides free exhibition stands for especially creative, highly skillful and innovative young designers working in handicrafts, design and jewellery. From 29 June to 1 July 2019, anyone who has been accepted on the scheme will be able to present their work at the trade fair and to build important contacts with trade and industry. For many young talents, this is a good opportunity to start a business on the design and consumer goods scene and to network with influential leads.
One of the Talents areas, Modern Crafts & Jewellery, can be found in the Design City. Selected talents will be presenting themselves directly next to the exhibition Form 2019. They will be demonstrating award- winning contemporary products in the field of tension between handicrafts and design.
Artisans and designers are welcome to submit their applications – with unique items or prototypes – by 28 March 2019:
Messe Frankfurt Exhibition GmbH Ms. Emine Disli
Ludwig-Erhard-Anlage 1 60327 Frankfurt am Main Germany
Phone: +49 69 7575 6915
Tendence will be held from 29 June to 1 July 2019.