Tendence: Green & Stylish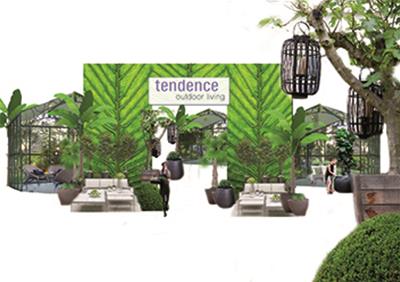 Germany's oldest consumer-goods fair banks on the latest outdoor trends with real plants and outdoor furnishings
Green is often in short supply in urban settings. And this even though the colour spectrum from lime to moss has a particularly soothing effect on the human psyche. There is no doubt that many townspeople, suffering from permanent stress, lack a calming influence. Hence, the trend towards natural structures and colours for the home, decorations and tableware is almost self-explanatory. A ray of hope for many people who yearn for more forest, countryside and meadows in the hustle and bustle of daily life. Particularly in the spring and summer, life is moving more and more into the fresh air with balconies and terraces having long since become an extension of the living room. And there, too, more and more people are surrounding themselves with living greenery.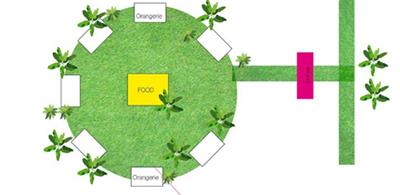 Innovative special area: Outdoor Living
Tendence in Frankfurt am Main from 24 to 27 June 2017 will show a host of ways in which life can be breathed into outdoor areas of all kinds – from mini-balconies, via roof terraces, to park-like gardens. Under the title Outdoor Living, the international trade fair is devoting a prominent special area to this future-oriented subject. The location at Frankfurt Fair and Exhibition Centre has also been chosen for its thematic proximity – the spacious outdoor area in front of the entrance to Galleria 0 opens up to visitors when they walk through the Japanese Gate.
A concept for increased sales
The focus of Outdoor Living is on a special assortment, and the designers of Holland's '2Dezign' are working on behalf of Tendence to create an exclusive exhibition concept with the young saplings, garden plants, garden accessories, outdoor furniture, lifestyle products and accessories product groups being arranged in a circle around an elaborately styled lawn. From palms and planters, via grills and luminaires, to lounge sets and finger food, retailers will find everything that makes outdoor life so attractive. In the style of innovative concept stores, the assortment is made up of selected core and inspiring supplementary product lines. In other words, Outdoor Living is not only an order venue but also, most importantly, a source of inspiration for the point of sale.
Tendence – international trade fair for consumer goods
Tendence (24 to 27 June 2017) is Germany's most international order venue for the second half of the year. The wide-ranging product portfolio covers fields of the home, furnishing, decorating, gifts, jewellery, fashion accessories, home textiles and outdoor living. Strong brands and key communicators use this new-products platform to present their trends for the winter and Christmas season. At the same time, they give bulk buyers from the international trade the chance to place orders in good time for their spring and summer collections.