Next please!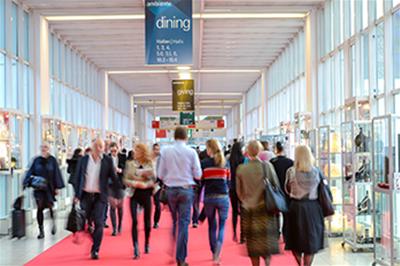 Ambiente is promoting young companies – applications by 28 October
Having an innovative idea is usually only the first step on the way to producing a top seller. Even if the entrepreneurial spirit is there, it takes contacts to market a good product successfully – many contacts. No platform is more suitable for meeting the right people than a trade fair. This is how 9 out of 10 retailers, who are always looking for new trends, see it (current Management Report Messe Frankfurt). In addition to buyers, it's sales partners and disseminators who can help creative entrepreneurs to break into the international market.
Next is the title of the promotional programme. And the name says it all. In specially designed exhibition spaces, young innovative companies from all over the world will be able to showcase their products in the context of Ambiente, the most important international consumer-goods fair. And so, it is understandable that media interest is as high as ever.
The fair's app, website and brochures draw visitors' attention to this selection of creative companies. "It is about helping young companies, who have taken their first steps, to move on to the next level of the consumer goods business. Trade fairs are mediators and matchmakers. So what could be more helpful than an international platform that's a date not to be missed for all key players?" says Ambiente's Vice President, Nicolette Naumann.
Up till 28 October 2016, young companies can apply to be part of Next with a complete exhibition package and attractive terms. From 10 to 14 February 2017 at Ambiente, a total of four Next areas will create accents in the following product groups: Loft/Interior Design (Hall 11.0), Young & Trendy – trendy gift articles (Hall 11.1), Jewellery (Hall 9.2) and Accessories (Hall 9.2).
The deadline for applications is 28 October and the application form is available for download on the Ambiente website: http://ambiente.messefrankfurt.com/next.
Please fill out the form and send it by post or email to:

Messe Frankfurt Exhibition GmbH
EBU 3 "Next"
Ludwig-Erhard-Anlage 1
D-60327 Frankfurt am Main
next @messefrankfurt.com
The Next promotional programme was established by Messe Frankfurt in 2008 and has been known ever since as a forum for young design and discerning niche products. Next is directed at companies who have already gained their first experiences and want to establish themselves in the consumer goods sector.