Creativeworld Highlights 2016: Trends, Activities, Expert Lectures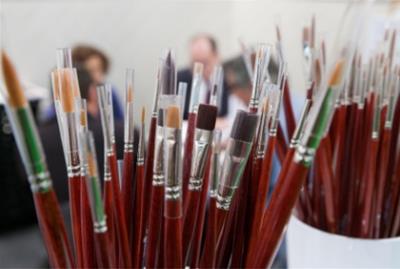 Creativeworld, the leading international trade fair for the hobby, handicrafts and artists' requisites sector, will once again mark the creative start of the DIY season next year, from 30 January to 2 February.
With several months still to go before the doors open, more than 280 exhibitors from over 30 countries have already signed up for the next edition of the fair, so that visitors will once again be able to see a range and variety of products unrivalled worldwide. "What makes Creativeworld so special is the broad spectrum of participatory activities and workshops on the latest techniques and trends on the exhibition stands and in our special presentation areas", says Creativeworld Director Michael Reichhold. For four days, specialist retailers from all over the world will be able to find out about the latest innovations and new materials, and discover an almost infinite variety of ideas. "The Creativeworld programme of events has something for everyone: from expert lectures and panel discussions, via awards ceremonies, to guided trend tours", adds Michael Reichhold.
All highlights and events at a glance
On behalf of Messe Frankfurt, Stilbüro bora.herke.palmisano prepares trend worlds with ideas for handicrafts and lots of inspiration for everything revolving around do-it-yourself, i.e., creative gifts and wrapping materials, furnishing ideas, jewellery, clothing, fashion and home accessories. Moreover, the designers provide insights into the colours, designs, materials and techniques of the coming handicrafts season. In addition to the trend presentations, there is also a workstation at the Creativeworld Trends special show where visitors can try out and test ideas for themselves while retailers can gain inspiration for putting handicrafts ideas into practice in their shops and making interesting product displays.
At the Creative Talks lecture area, experts discuss subjects of topical interest to the creative sector.
The coveted Creative Impulse Award – the foremost award of the hobby, creative and artists' requisites sector – is presented at Creativeworld for imaginativeness, innovativeness and commitment in four categories: 'Creative Product of the Year', 'Creative Tool of the Year', 'Complete Set of the Year' and 'Creative Handbook of the Year'. An international jury of experts – retailers, designers and trade journalists – select their favourites from all products entered by the industry. All products can be seen at the Creative Impulse exhibition during Creativeworld.
This year, handmade expert Silke Bosbach and Creativeworld invite entries for the Creative Hands Award 2016, which is being held under the motto 'Hatmaker' with the aim of finding the most original headwear regardless of type, e.g., homemade caps made of cloth, wool or felt, or shape, from floppy hats to extravagant fascinators. Permissible is everything wearable and suitable for heads big or small. To make them, all creative techniques, e.g., sewing, fabric painting, embroidery, weaving, crocheting or wet felting, can be used. And there are no restrictions on the choice of materials. A jury will select the 20 most creative headwear examples from all entries and the winning creations will be on show in a special exhibition. Additionally, there will once again be participatory activities with Creative Ambassador of the Year, 2015, Silke Bosbach.