Creativeworld Trends 2017/18
Over many years they have been one of the highlights of Creativeworld. The Creativeworld trends are highly regarded by visitors and exhibitors alike due to their unique inventiveness. Commissioned by Messe Frankfurt, the designers of the bora.herke.palmisano style agency seek out the latest trends in interiors, fashion, architecture and art and shape them specifically to the range of products and themes showcased at Creativeworld.
The style agency uses the exhibiting manufacturers' materials and tools to create individual items, some large, some small, but all of them out of the ordinary. These items are then placed in the three trend worlds. The resulting trend show showcases 'lifestyle' in all its guises, from clothing, fashion and accessories for the home to creative office concepts and ideas for gifts and packaging. A daily workshop is held for each trend.
Trade visitors get advice and inspiration and, under supervision, have the chance to experiment themselves with the materials. "By combining creative materials and technologies in unexpected ways, this special show offers distributors great new business ideas. They discover new products and new potential applications and can adapt these effectively to their own retail environment with the opportunity to present products differently and generate new turnover potential," says Creativeworld director, Michael Reichhold.
New interpretations of old technologies
The big new trend for 2017/2018 is check, simple geometrical shapes and folkloristic patterns as, for example, the Scottish Argyle pattern. It includes both condensed and soft tones as well as strong contrast colours. Check is making a comeback, being used increasingly in the creative field, while old, familiar technologies such as stamping, knotting, embroidering, braiding or weaving are also being reinterpreted and applied with various materials to create or decorate a range of different items.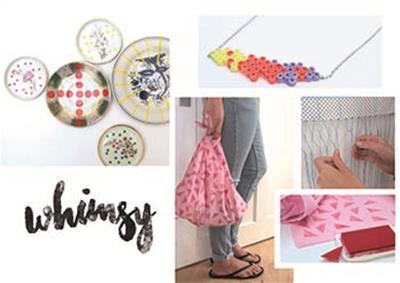 Whimsy: a trend full of contrasts
Playful, bizarre or lively: a simple definition of this trend of 'whimsy'. The idea is to mix and patch together intensive colours with various patterns or outlandish forms. Using masking tape to add stripes and circles to vintage crockery, printing brightly coloured patterns on pale materials or embellishing them with Japanese origami papers, using extra-thick wool with strong colours for caps or arm and leg warmers, preferably with geometrical patterns. The idea is to juxtapose contrasts and in turn generate a new exciting unity.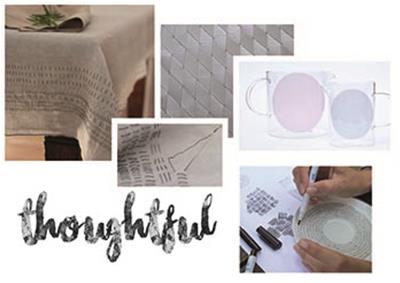 Thoughtful: delicate and modest
This trend uses modest, neutral colours and delicate minimalist patterns, most discrete in seeking attention. Fine, small, zentangle like patterns drawn with a fineliner pen adorn blouses or shirts. Porcelain or glass is cross hatched with fine circles and strokes and thin linen blankets or bags decorated with simple embroidery. 'Thoughtful' is laced through with delicate patterns like lines, circles, crosshatches or flowers across all technologies like printing, weaving or knitting. This modest style uses neutral grey, black and white nuanced colours which are complemented by sensuous pastel shades such as rosé and bright blue.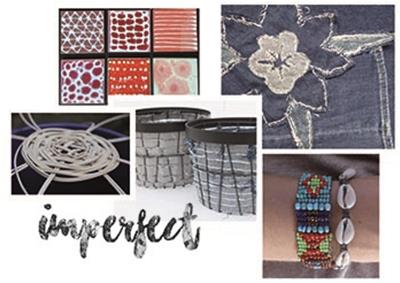 Imperfect: the new perfection
Everything is possible, just not perfection. This is what lies behind 'imperfect' as a trend. Derived from nature and folklore this trend makes no claim to create perfection. It closely mirrors the Japanese Wabi-Sabi principle which says you can find beauty in everything, even in imperfection. 'Imperfect' translates into rough and ready materials, brush painted patterns and spontaneously creative wild embroidery. It is where imperfect and haphazard meets ordered and conventional. Patchwork looks pick up on folklore patterns without being region specific. Basic stitching is used to apply decorative, embroidered flowers on jeans.
Fragmentary baskets are woven from thin rattan and ribbons. Chaos reigns, even in jewellery design, where pearls of different sizes and colours are patched together.
Create and experiment
The Trend Show is open from 28 to 31 January in Hall 4.1, G41 for the whole duration of Creativeworld. Each day style agency staff will also be at the workstation to present a selection of the ideas showcased at the Trend Show and to demonstrate the individual steps required to bring them to life. This gives trade visitors and exhibitors the opportunity to try out technologies with the corresponding materials and tools.