Christmasworld 2016 – Potent Trend and Order Platform for Festive Decorations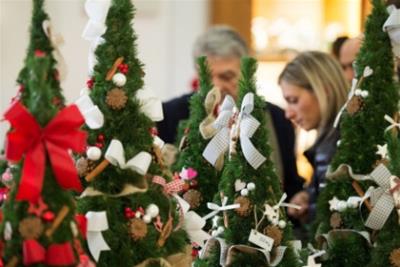 The focus on Christmas and festivities is a complete success with 95 percent of the exhibition space at Christmasworld 2016 having already been booked by the registration deadline at the end of April. More companies signed up than at the same time last year, and they include numerous new exhibitors. "This confirms the high level of satisfaction on both the exhibitor and visitor sides at the last edition of the fair.
Over the years, Christmasworld has proved to be an extremely reliable business platform, even in difficult economic times. We will naturally continue along these lines in 2016 at the same time as showing new ideas and concepts for promoting sales at the point-of-sale", says Eva Olbrich, Christmasworld Director, Messe Frankfurt Exhibition GmbH. At present, the planning work for Halls 8.0, 9.0, 9.1, 9.2 and 11.0 is in full swing with the aim of finding the best-possible solution for exhibitors coupled with a clear layout. To this end, the leading international trade fair for festive decorations will make as few changes as possible to the familiar five-hall structure so visitors can look forward to a comprehensive spectrum of products revolving around 'Seasonal Decoration at its best. From atmospheric Advent and Christmas decorations, via seasonal indoor and outdoor decorations for the various events of the year, to impressive shop window and large-scale decorations for city centres, shopping malls and hotels, the latest trends and new products will be on show at Christmasworld in Frankfurt am Main from 29 January to 2 February 2016.
The product segments include:
Christmas & Advent (Halls 9.1 and 11.0)
This segment includes everything necessary to decorate the home for the Christmas season. And, incidentally, these decoration and Advent articles – from classic Christmas-tree baubles, via trendy Christmas figures and original festive decorations, to nativity scenes and hand-crafted folk-art products from the Ore Mountains – are valuable sales boosters for the retail trade, which customers like to purchase spontaneously. Particularly important for the bricks-and-mortar trade is an appealing product display or the emotional presentation of individual articles. Among the exhibitors offering original ideas in 2016 will be Christborn and Inge´s Christmas Decor.
Seasonal Decoration & Gifts (Halls 9.0 and 9.1)
No matter whether spring, summer or autumn, Easter, a christening, communion, confirmation or wedding, Valentine's Day, Mother's Day or a birthday, Halloween or a barbeque, every season and every festivity can only be celebrated properly with decorative accessories and textiles. In other words, it's time to redecorate the windows to attract new customers into the shop. Among the exhibitors presenting innovations in 2016 will be AM Design and Gilde.
Florists' Requisites & Garden Decorations (Halls 8.0 and 9.0)
Flowers set attractive accents in the home, shops, hotels and public buildings throughout the year. At Christmasworld 2016, buyers will find a broad spectrum of creative ideas and materials from, for example, DPI and Edelman for artificial flowers / plants, artificial trees, wreaths / sprays / vases and for garden decoration. But that's not all: in 2016, the range to be seen at the fair will be supplemented for the first time by fresh flowers in the form of seasonally decorated sprays. "On the basis of discussions with the sector, we have ascertained that there is a genuine demand for supplementary sales channels for fresh flowers as decorative elements, and therefore plan to establish a special area for this in Frankfurt in the future", explains Christmasworld Director Eva Olbrich.
Visual Merchandising & Light (Hall 11.0)
In the dark months of the year, there are almost unlimited opportunities for using ultra-modern, energy-saving LED technology in the home and garden. Versatile Christmas and decoration lighting will be shown by, for example, Gnosjö Konstsmide. At Christmasworld, shops and cities that want to stand out are also sure to find eye-catching window or in-store decorations, including moving figures and professional indoor and outdoor lighting, thanks to exhibitors such as Blachere Illumination and MK Illumination. After all, first impressions are decisive for whether or not customers enter the shop and want to discover more (Source: Management Report: The key to success – study on the importance of window dressing in the retail trade). Thus, investments in Christmas decorations pay: at the busiest time of the year, it is well worth making the effort to create an enchanting atmosphere. According to the Christmasworld study on 'Christmas decorations in German Shopping Centres', the country's shopping malls spend around € 24 million on Christmas decorations every year.
Candles & Fragrances (Hall 8.0)
Christmasworld is considered to be the world's biggest candle fair. And rightly so because the range of candles, candle holders, candlesticks and candle accessories is unrivalled worldwide. And then there is the growing market for room fragrances and soap. Taking part in 2016 will be, for example, Bolsius and Wiedemann.
Ribbons & Wrapping (Hall 8.0)
The pleasure of giving is twice as great when the gift is individually wrapped. Ever more new colours, motifs, materials and printing options enable customers and retailers to even personalise ribbons or bows: a must-have for every business wanting to emphasise quality – and also give their visiting cards a different look. The exhibitors taking part include, for example, C.E. Padberg and Goldina Loy.
Asian Christmas & Decoration (Hall 9.2)
From florists' requisites, via seasonal and Christmas decorations, to lighting, the Asian pavilions and individual exhibitors from China, India, Thailand and the Philippines present the complete spectrum of products. At 'Asian Christmas & Decoration', they offer decoration products for buyers looking to place medium-sized to large orders.
Every year, the unique spectrum of seasonal and festive decorations with the spotlight on Christmas attracts more than 30,000 trade visitors from over 100 countries. They include buyers from the wholesale and retail trades, e.g., garden centres, DIY markets, florists, furniture and furnishing stores, gift boutiques, glass, porcelain and ceramic shops, drug stores / perfumeries and food stores, as well as buyers for shopping centres, cities and municipalities, the foodservice sector, hotels, event agencies, window dressers, interior-furnishing experts, designers and decorators.