Paperworld, Creativeworld, Christmasworld and Floradecora: The dream team for the start of the season in Frankfurt am Main
A quartet of trade fairs with added value: broadening horizons for success in business
New product ideas and innovations at the consumer-goods fairs will get trade off to a perfect start in the business year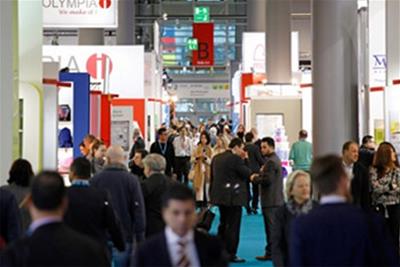 Additional product ranges and niche items are often the driving force for specialist retailers today. They want to offer their customers 'something special' so that they stand out from their competitors and the large chain stores. What is more, there is a trend nowadays towards making shopping as easy as possible for customers and offering them a superior product range.
From 27 to 31 January 2017, retailers and buyers will find an unparalleled breadth and depth of exactly the right products in Frankfurt am Main: Christmasworld, Floradecora, Paperworld and Creativeworld will combine to make up a quartet of fairs that is not to be found anywhere else in the world. In 17 exhibition halls, visitors will be able to broaden their horizons with a wide variety of inspirational ideas from the individual sectors and product segments.
The Frankfurt exhibition centre provides a platform for four sectors
Decorating and making decorations, creative stationery, and handicrafts are moving ever closer together in the retail trade and ultimately also with end users – these sectors will be given a joint platform at Messe Frankfurt at the end of January.
At Christmasworld, it will be all about seasonal and festive decorations, all in six exhibition levels in Halls 8, 9, 11 and the Galleria. At the new Floradecora trade fair in Hall 11.1, things will be colourful and floral: this is where the focus will be on fresh flowers and plants as a complement to seasonal decorations.
Paperworld will be showcasing all kinds of paper, office supplies and stationery products in seven exhibition levels in Halls 1, 3, 4, 5 and 6. In two exhibition levels in Hall 4, Creativeworld will be showcasing everything to do with creative arts & crafts, materials for hobbies, and artists' requisites.
This quartet of fairs will bring with it business impulses and contacts that will help with broadening a product range appropriately. At one single event – right at the start of the business season – Paperworld, Creativeworld, Christmasworld and Floradecora will be presenting a range of innovations, products, services, and trends unparalleled anywhere else in the world, along with its inspiring complementary programme. This is what makes a trip to Frankfurt – situated in the heart of Europe – worthwhile in more ways than one.
Christmasworld: Seasonal Decoration at its best
Christmasworld (27 to 31 January 2017) is the world's most important order venue for the international decoration and festive articles sector. Held annually in Frankfurt, it presents the latest products and trends for all festivities of the year and provides innovative concept ideas for decorating large-scale and outdoor areas for the wholesale and retail trades, shopping centres, DIY markets and the green sector. Around 960 exhibitors from 45 countries and approximately 37,000 visitors will be able to view a wide and unique range of products for seasonal and festive decoration. Christmasworld is characterised by the complete spectrum of festive decorations while a wide-ranging complementary programme with Trend Show, special exhibitions, events and expert lectures is a valuable and informative source of supplementary inspiration for everyday business life in the sector.
Floradecora – The freshest way in floral business
Première in 2017: from 27 to 30 January 2017 in Hall 11.1, the new 'Floradecora' offers buyers at Christmasworld fresh flowers, plants and flower arrangements for seasonal decoration as an additional line – at an ideal time at the beginning of the year, right at the heart of the strongest sales market for flowers in Europe. The concept of the fair is an attractive one, with unique stand designs and an innovative selling approach for new exhibitors such as flower and plant growers and producers, wholesale florist suppliers, importers & exporters, sales cooperatives and associations, suppliers of ceramics and floristry requisites, logistics companies, assembly and packaging companies and auctioneers.
Paperworld – The visionary office and the stationery trends
Paperworld (28 to 31 January 2017) is the world's most important information and communication platform for the national and international paper, stationery and office supplies sector. More than 1,500 of the world's leading manufacturers and interesting start-up companies will be showcasing what the future holds for the modern office (the visionary office) and for paper and stationery products for private use (the stationery trends) in seven exhibition halls. Paperworld provides innovative business ideas for the wholesale, retail and specialist trades, as well as for booksellers, the internet and mail-order trade and commercial users. With around 35,000 buyers and trade visitors from about 140 countries, Paperworld is the most international trade fair in its sector and is characterised by a vast horizontal and vertical spectrum of products ranging from office and school requisites, via gift articles, packaging and printing accessories, to exclusive stationery products, as well as writing and drawing utensils for private and commercial use. Additionally, with its varied event and congress programme, Paperworld is a multifarious source of inspiration and expertise.
Creativeworld – The international trade fair for hobbies, arts & crafts and artists' requisites
Creativeworld (28 to 31 January 2017) is the world's leading trade fair for the international hobby, handicrafts and artists' requisites sector. Held annually in Frankfurt am Main, it showcases the latest products and trends from around 300 exhibitors from 30 countries. Around 8,700 buyers and trade visitors will be able to view new products, techniques, and materials for decorative arts & crafts and creative hobbies, graphics and artists' requisites, as well as products for handicraft and textile design. Creativeworld is the ideal order platform for the wholesale, retail and specialist trades, DIY markets, garden centres, the internet and mail-order trades, as well as commercial and other professional users. And, as a trend and business platform, the trade fair is the first important venue of the year. With its multi-faceted complementary programme of events, Creativeworld is a source of new ideas, inspiration and expert knowledge – in line with its motto 'Refresh your business!'.
Tickets for the fair
Trade visitors can purchase their day and season tickets in advance over the internet. This saves time and money: more than 20 percent on tickets purchased in advance online, compared with tickets purchased over the counter at the fair; they include free travel to and from the venue on public transport within the Rhein-Main-Verkehrsverbund (RMV), and for trade visitors a long wait at the entrances is a thing of the past, regardless of whether they have a printed ticket or an e-ticket on their mobile phone. What's more, visitors will be able to visit all four fairs with their ticket (Christmasworld, Floradecora, Paperworld and Creativeworld) and tickets will also be available for purchase on the day from the ticket offices at each of the entrances to Messe Frankfurt's exhibition halls.
Interactive hall plan and exhibitor search
An interactive hall plan, which can be found on the respective websites for each fair in the joint event, provides an important orientation tool. It shows where exactly individual exhibitors will be positioned and where the special show and events areas will be located.
With the online exhibitor and product search engine, trade visitors can find out about an exhibitor's location, products and company. The personal favourites' checklist will help them, with a few simple clicks, to put together, store and later revisit all the information they need about companies and their products.