Sustainable, fair, social: Ecostyle 2015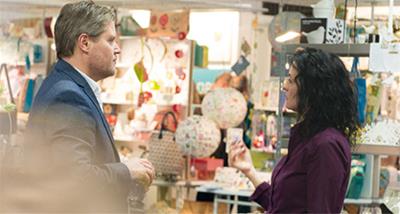 From niche to mainstream: consumer awareness of resource-friendly, responsible consumption is growing. But what does sustainable production really mean? Which materials can be recycled, which not? Retailers will find answers to these and many other questions at Ecostyle, the trade fair for sustainable, 'green' consumer goods, which will be held concurrently with the Tendence order and new product platform from 29 August to 1 September. At Ecostyle, more than 50 exhibitors present high-grade products standing for design, ecology, functionality and social aspects in manufacturing.
The exhibits to be seen at Ecostyle include products by Dutch designer Jurianne Matter. "All my products are made in Holland and are completely eco-friendly. For me, a product is only beautiful if both nature and man have been considered in its development", says Matter. For her printed towels, bags and paper articles, she uses, inter alia, 'Vega-Fast ink', a vegetable-oil based dye made in the Netherlands. Her bags are made of maize meal, which is biodegradable. Jurianne Matter's products can be seen at Ecostyle on the exhibition stand of La mesa Wohn accessoires.
Sustainability is also of central importance for TicToys founders Tony Ramenda and Matthias Meister who, with a great love of detail, design toys made of natural materials for children and the young at heart, which represent a counterweight to today's omnipresent brightly coloured plastic toys. They use renewable primary products from domestic sources and recyclable packaging. Cotton is sourced from Fair Trade certified suppliers. "Our products combine our hobbies with our belief in a better world. TicToys = Fair Made & Fair Play", says Matthias Meister.
The Bea Mely label also attaches great importance to environmentally friendly and sustainable production, as well as fair working conditions, for its products. The handbags, dishes, vases, decorative orbs, trays and woolly hats are designed in Germany and hand-made using traditional methods in Vietnam, Ecuador and Columbia. "We purchase our products from small manufacturers or family companies whereby we ensure that the people who make our wonderful products also receive a fair wage and are treated well", says Bea Mely CEO Peter Becker.
In addition to the spectrum of exhibitors, Ecostyle offers visitors a number of special exhibitions. One of them shows the winners and nominees of the German Ecodesign Award. Initiated by the Federal Environmental Ministry and the Federal Environmental Agency, the Ecodesign Award honours innovative products, services and concepts meeting specific aesthetic and ecological criteria.
Another must is the 'Cork Old World – New World' presentation at Ecostyle. There, students of the Karlsruhe College of Arts and Design (Staatliche Hochschule für Gestaltung) exhibit projects using the ecological material cork. The design students are supervised by Professor Hansjerg Maier-Aichen and Professor Volker Albus. The project is supported by Amorim, a manufacturer of stoppers made of natural cork.
The 'Talents' promotional area for young designers is also well worth seeing. There, Ecostyle gives creative minds a platform on which they can present their ideas and designs on the subject of 'sustainability' to a wider audience.