Hamilton Adds Specialist Brushes to its Prestige Range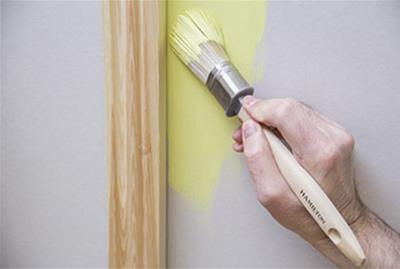 Having identified a need in the market for specialist brushes, Hamilton, the leading professional decorating sundries company, has extended its popular Prestige range to feature 4 new brushes to help satisfy the requirements of all professional decorators.
Developed with Hamilton's Decorators Panel following extensive on site product trials, the new brushes are designed to help decorators complete their jobs quicker and with better results.
The new Prestige brushes are:-
Prestige Oval Angle Synthetic Brush – sizes 25mm & 35mm
Great for cutting in, the oval shape provides excellent pick up.
Prestige Angled Synthetic Brush – sizes 50mm & 70mm
Ideal for wooden fascia boards, the angled shape allows superior accuracy.
Prestige Round Flat End Synthetic Brush - size 30mm
Suitable for dado rails and spindles, the round head provides greater paint pick up and coverage of larger surfaces.
Prestige Flat Lining Tool Pack
A set of three brushes which are great for small and detailed work; the slant gives excellent control.
All four brushes are a blend of synthetic filaments and have wooden handles. They are suitable for use with both solvent and water-based paints.
Philippa Pawson, Director of Marketing at Hamilton said, 'We recognise that all decorators have individual ways of working so have extended our Prestige range to include four specialist brushes to reflect everyone's needs.
'We continue to invest in market research to ensure that we deliver the tools that today's professional decorators now demand, always at the highest possible standards.'
For more information on Hamilton's range of brushes, rollers and decorating tools, visit www.hamiltondecoratingtools.co.uk or call 01953 453201.