Apply Water-Based Gloss to Perfection with Hamilton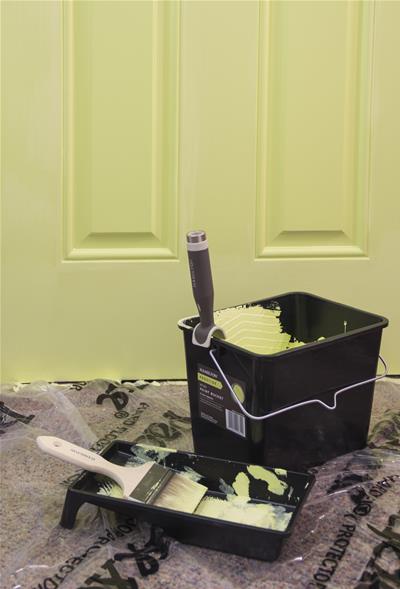 Water-based gloss paint may be increasing in popularity, however it can be difficult to apply. To help professional decorators to achieve the perfect finish, Hamilton, the leading decorating sundries company, will present two different methods of applying this paint and offer advice on how to achieve the best results at this year's National Painting & Decorating Show.
Although water-based gloss paint has developed to behave more like a solvent-based paint, there are still some characteristics such as short open times and a levelling tendency that can cause issues with application.
Let the roller do the work
One method of achieving a great finish with water-based gloss that is incredibly close to a traditional gloss finish, is by using a roller and laying off brush. Apply paint with a Hamilton Prestige medium pile roller and lay off using the Prestige Laying off brush for best finish. The paint can be applied using just the roller however, the roll on lay off method will give a higher level of gloss. It is also important to note that the second coat of gloss will bring out a higher level of gloss on the finish.
Brush up on gloss work
If you prefer to use a brush, whilst a natural bristle brush remains the best option for solvent-based coatings, a synthetic brush will produce the finest finish with water-based gloss – and this also includes water-based trim paints such as Satinwood.
Hamilton's synthetic brush options have been developed specifically for use with water-based paints, including water-based gloss, and offer distinct advantages to help decorators achieve the desired professional finish.
Most importantly, the synthetic filaments do not swell in water, which allows the brush tips to stay fine, coupled with the unique finishing of the tips of the Perfection Synthetic brushes this will ensure a perfect finish every time. Philippa Pawson, Director of Marketing at Hamilton said, 'We have seen new launches of water-based glosses in the market place and we are delighted that we offer a number of application alternatives that result in a fantastic finish. We are determined to provide the best possible brushes and rollers for our professional decorators along with the expert advice and expertise that Hamilton is renowned for.'
To see Hamilton's synthetic brush and roller ranges, along with live demonstrations of the application of water-based gloss paint, as well as the opportunity to purchase a promotional kit which includes a roller and laying off brush, visit Stand Number 55 at the National Painting & Decorating Show.