Yangzhou Jingdu Brush Co.,Ltd Acquires Top Ten Quality Supplier Award from Harris Decorating Tools (Zhaoqing) Ltd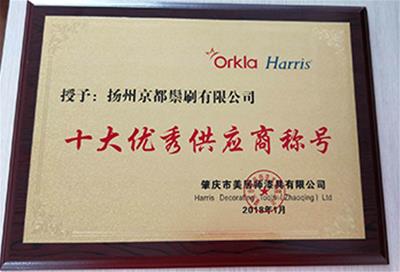 In March 2018, we attended the annual conference of Harris Decorating Tools(Zhaoqing) Ltd. Fortunately, Yangzhou Jingdu Brush Co., Ltd acquired the Top Ten Best Quality Supplier Award. Thank you very much to Harris(Orkla) for giving us this opportunity.
Yangzhou Jingdu Brush Co.,Ltd is a manufacturer specializing in natural boiled bristles and synthetic filaments. 32 years experience of boiled bristle manufacturing and 8 years experience of producing synthetic fibers, ensures the consistency of quality of our products. Updating our range with the new product JD SMART A Series, gives our products more life and creativity.
Why were we selected as the best supplier of boiled bristle and synthetic filament for Harris?
Product qualification rate detection is higher than other suppliers
Delivery is very timely, with goods arriving at the customer's warehouse exactly according to contract terms
Sample time would be within 7 days
Customer service response time is within 24 hours
R&D department adds new products every year
Same quality, more competitive pricing
For more information, please visit our websites via the company name link below: