ZAHORANSKY do Brazil:
A Proven Team & a Strong Commitment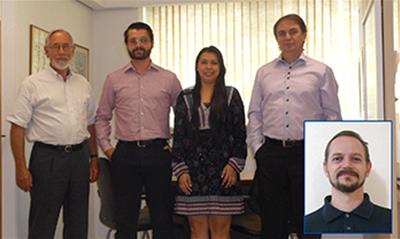 ZAHORANSKY is increasing its presence in Latin America with the new sales and service branch office ZAHORANSKY do Brasil PARTICIPAÇÕES LTDA in São Paulo. After more than 42 years of successful collaboration with commercial agency PILTZ COMERCIO E ASSISSTENCIA TÉCNICA LTDA, the full-service provider of injection molding tools, automation solutions, packaging machines, and machines & systems for the brush industry is taking over business activities for all ZAHORANSKY products, effective immediately.
Joachim Piltz will continue to guide the company's activities as CEO for two more years. With Renan Trevisan as Vice President, we have gained an experienced engineer who can succeed him later on. After completing his studies in electrical engineering and achieving an MBA, the trained service and application engineer spent many years collecting experience in application engineering, service, and sales in the areas of machines and plastics.
Antonio Roberto Sartos will be acting as Gerente de Vendas, and will be responsible for sales within Brazil. He comes to the position with 30 years of experience in sales of ZAHORANSKY machines and replacement parts. José Reinaldo Schmitz Júnior will be supporting customers on the Brazilian market as a service technician. "Schmitz Junior" spent many years as a technician with a well-known Brazilian brush manufacturer and, following a comprehensive training with ZAHORANSKY in Germany, he will be supplying our customers with maintenance, repair, and product start-up services.
The staff of ZAHORANSKY do Brasil will also be supported by a back office team.
By taking this step and establishing its own branch office, ZAHORANSKY is underscoring the importance of the Latin American market in general, and the Brazilian market in particular, for our business in forms, machines, and automation solutions.
Contact:
ZAHORANSKY do Brasil
Rua Carmo do Rio Verde, 241 - Cj53
CEP04729-010 São Paulo-SP-Brasil
Phone: +55 11 5641-1146
Fax: +55-11-33844385
Email: adm.zbr@zahoransky.com