A New Generation of Training from Hamilton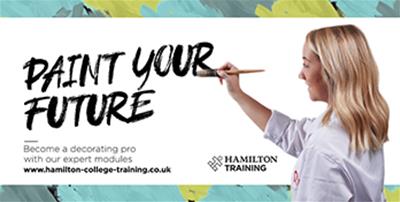 With an eye on the next generation of painters and decorators, leading professional decorating sundries company, Hamilton, has launched the Hamilton Training Platform, designed exclusively for students.
Hamilton Training Platform
Building on the solid relationships with colleges of further education across the country that Hamilton has nurtured over many years, the Hamilton Training Platform has been specifically designed to provide students with a host of curriculum-friendly training modules along with advice and support for the up and coming professional painters and decorators of the future.
Digital convenience
Sarah Coussens, brand manager at Hamilton said, 'Whilst we have always recognised the important contribution that students make to our industry and are keen to support them, we also acknowledge that their needs have evolved.
'Students live very much in a digital world and want tutorials, demonstrations, help and advice in a familiar format that they can easily access at a time convenient to them either on their phone or tablet.
Easy access, user friendly and free!
Sarah continued, 'It's free to join - simply sign up and you will receive a personalised text message with a link to the Hamilton Training Platform which allows you to get started right away and join our online student community, via our exclusive Facebook group, allowing ideas to be exchanged, best practise to be discussed and of course a few competitions and giveaways as well!
'Having worked closely with students and lecturers to make sure we deliver a very useful and supportive tool, we are very excited about our new Hamilton Training Platform and look forward to its continued success.'
For more information on the new Hamilton Training Platform, visit www.hamiltondecoratingtools.co.uk or call 01953 453201.