Mill-Rose to Attend FEIBP Congress and Introduce Mini/Micro Brushes for Industrial and Medical Use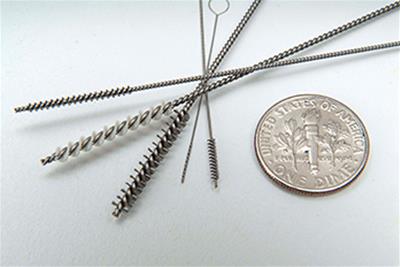 "The FEIBP Congress provides a great opportunity to network with peers throughout Europe while learning about new technologies that can make a competitive and profitable difference in your business," said Greg Miller, General Manager of The Mill-Rose Company, leading U.S. manufacturer of twisted wire brushes. "I look forward to discussing our expanded selection of miniature and micro brushes used in industrial and medical applications," he added.
Mill-Rose is uniquely suited to manufacture brushes as tiny as .014 in diameter to clean, polish, debur and ream small holes and cavities using a full range of bristle materials, including stainless steel, brass and nylon.
Miniature abrasive tube brushes are available for aggressive cleaning and deburring holes drilled in close-tolerance metallic and non-metallic parts. These brushes are flexible, designed to retain their shape better than wire-fill brushes, and will not degrade the diameter, straightness or surface finish of the holes. These silicate and aluminum-oxide brushes are designed for power use.
Mill-Rose also manufactures a complete line of micro twisted wire brushes used in medical applications, including microbiology and cytology sampling, cleaning endoscopes and other medical instruments, and custom-design applications for precision instruments. These micro/mini brushes can be supplied in a full range of materials that include stainless steel, brass, bronze, gold, silver, titanium, molybdenum and other exotic materials. Synthetic fibers can also be used, including nylon, polyethylene, styrene, Herox®, and Tynex®.
Bristle materials range in thickness from 0.0025" and uniform diameters are accurate to + .001". Loop handles make the micro brushes easy to use for hand application and brushes are also available without loop handles for power applications.
Mill-Rose offers a full-service engineering department that works closely with manufacturers in developing custom-designed brushes for new applications. For more information, please use the company name link below: