The Mighty Little Brush – A Look into the Production of Mini Twisted-in Wire Brushes by WÖHLER
Impressive in their versatility and efficiency.
Industrially the perfect solution in diverse manufacturing fields and products.
Applications cover the cleaning and deburring of grooves, notches and boreholes, as well as smoothing and de-rusting.
Finest processing is possible thanks to the diverse forms, ranging from cylindrical and conical up to stepped and winged designs, and these brushes can be found in applications in the medical-technical sector, micro-electronics, optics and precision engineering, as well as in hydraulics and pneumatics.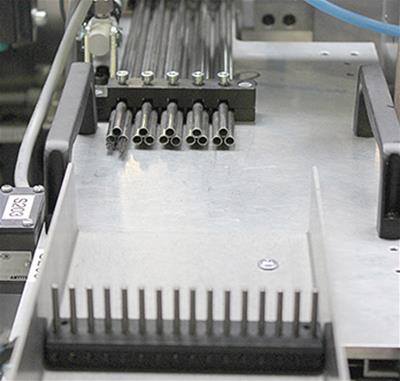 Large twisted-in wire brushes (commonly known as bottlebrushes) can be found today in almost every household. Compared to these household brushes, the production of such miniaturised brushes, as required in industrial applications, is considerably more difficult. Here they are required for the deburring and cleaning of finest grooves, notches and boreholes. To automatically produce such miniature twisted-in wire brushes demands particular expertise, experience and highest engineering skill.
The first step in developing a high performance miniature twisted-in wire brush is determining the handle deign. This is made from the stem (or core) wire. It should offer the perfect balance between flexibility and rigidity and be resistant against wear, corrosion and chemicals, depending on the application. These contradictory characteristics can quickly lead to wire breakage and inconsistent forms in the production.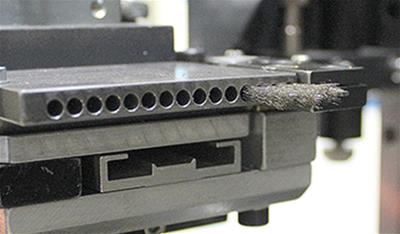 These problems have been effectively solved in the MTI 960 from WÖHLER by means of the optimised twisting process. The stem wire is automatically drawn off from spool, cut to length and fed to further processing. A carefully designed concept with innovative monitoring of the twisting parameters allows the production of even smallest gauge brushes with high rigidity.
Innovative fill material feeding allows special forms in smallest lot production
The diversity of applications, each with their own specific requirements, results in a wide scope of different fill materials with different characteristics and in a range of different diameters. The MTI 960 from WÖHLER is designed for processing a great diversity of wire, synthetic and abrasive fill materials.
The innovative fill material system allows the operator fast and simple filling, saving time and contributing to optimised machine efficiency. Fill material feeding can be carried out from spool or by manually feeding short hanks. The latter is of particular importance in realising the possibility of smallest lot production with specialty fill on demand.
Optimised production with minimal waste
Special blades ensure that the fill material is cut precisely and practically free of waste, making subsequent trimming unnecessary. Apart from the material savings, a greatly enhanced production rate of up to 8 brushes per minute also means increased productivity.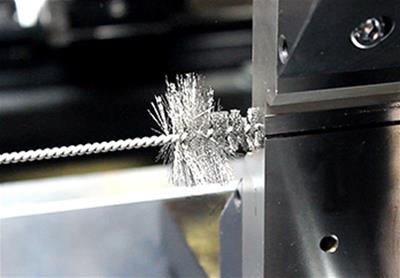 The brush is given its form in the following twisting process. The MTI 960 from WÖHLER scores again here with minimal changeover times. Apart from the classic twisted-in wire brush forms, butterfly, combination and specialty brushes, as used in gun cleaning for example, are also all available.
Uniting all process steps in a single machine ensures cost-efficient production of small lots, while allowing short-term demand to be met.

Recipe management in the control allows the saving of tried and proven settings via the intuitive touch screen, guaranteeing excellent repeatability of processes and consistently high quality and efficiency levels.
Machine demonstration in May and June 2018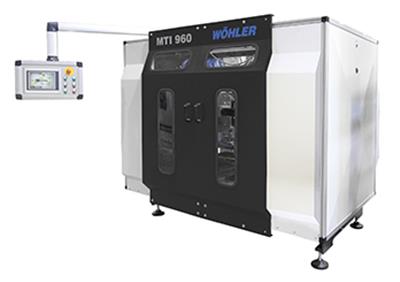 If this presentation has not yet convinced you to start in a successful future with the WÖHLER MTI 960, then you should consider experiencing the benefits live. The WÖHLER Team is at your service in consulting and planning your personal machine demonstration.
All contact information can be found via the company name link below:
WÖHLER MTI 960 - Miniature Twisted-in Wire Brush Machine