Mill-Rose Blue Monster® OXY-Clutch Introduced for Critical Oxygen Service Sealing Applications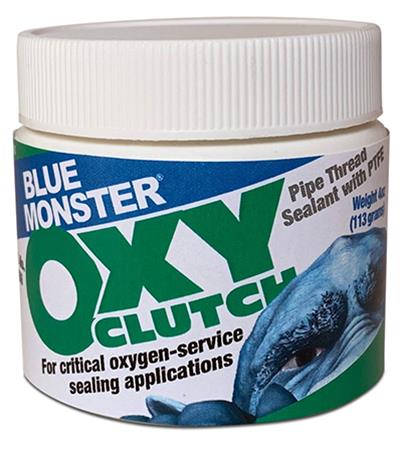 Blue Monster® OXY-Clutch, a new specially formulated thread sealant for high-pressure, pure oxygen piping systems, is introduced by the Clean-Fit Products division of The Mill-Rose Company.
OXY-Clutch is PTFE enriched and provides superior sealing characteristics, is inert, noncorrosive and non-flammable, and contains no VOCs, silicone or hydrocarbons. This unique thread sealant has an effective temperature range from -320°F to 450°F (-196°C to 232°C) at pressures up to 2,600 PSI (180 BAR). Blue Monster® OXY-Clutch is tested for Autoignition Temperature according to the stringent standard of ASTM G-72.
"OXY-Clutch is ideally suited for hospitals, gas plants, gas welding equipment and wherever critical oxygen service sealing applications are required," said John Kirkland, National Sales Manager for Clean-Fit Products.
Blue Monster® OXY-Clutch thread sealant is available in a 4-ounce container and sold at leading PHC supply houses. Blue Monster products are offered exclusively by Clean-Fit Products, a division of The Mill-Rose Company. Mill-Rose is the world's leading supplier of PTFE thread sealants and largest manufacturer of twisted-in-wire brushes in the U.S.A.
For further information, please click the company name link below where you will find full contact information and web link.