Paul Miller Honored at 58th Annual Golf Tournament for Brush Manufacturers and Suppliers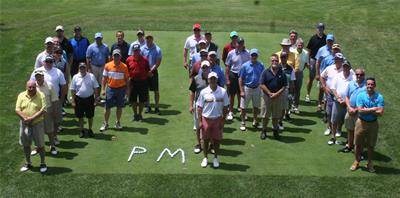 Brush manufacturers and suppliers from around the world gathered for the 58th annual Victor F. Miller Golf Tournament hosted June 21st by Mentor-based The Mill-Rose Company at Shaker Heights Country Club in Cleveland, Ohio.
Prizes were awarded to golfers for outstanding performance. Terry Hogan of Hahl-Perlon won both closest to the pin events, Mitch Sears of Malish Corporation won both long drive events, Chris Orenchuck of Parker Brush Company won low gross, Jim Hauck of Malin Wire won low net, and Kevin Lannon of Lanoco Specialty Wire Products retained his title as "Wolf Champion."
Following dinner, heartfelt speeches were delivered by Gregory Miller of The Mill-Rose Company, and many other industry friends paying tribute to Paul Miller, president of Mill-Rose, who could not attend the entire event as he is recovering from health-related issues. In deference to Mr. Miller, golfers joined in a photo shoot spelling out "PM" for Paul Miller's initials.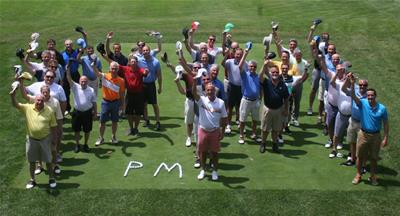 "The 2018 Victor F. Miller Golf Tournament was a great success this year," said Gregory Miller, Vice President of The Mill-Rose Company. "Although tempered by my dad's absence, there was a special camaraderie among attendees knowing that friendships should not be taken for granted," added Miller.
Carlos Petzold, the current president of the American Brush Manufactures Association (ABMA) addressed the group and provided updates on the association and dates for the 2019 convention to be held in the Bahamas. On behalf of the European Brushware Federation (FEIBP), Ian Moss of Brush Fibers addressed the group and provided information on the upcoming congress taking place later this year in Bordeaux, France.
Over 65 representatives from the United States and countries from around the world attended the event. Manufacturers and suppliers gathered during the week before the golf outing to discuss business trends and opportunities for the brush manufacturing industry.
Brushes manufactured by these companies are used in virtually every type of industry around the world. Applications include makeup/mascara brushes, hair brushes, floor sweeping and polishing brushes, gun cleaning brushes, car wash brushes, copier toner brushes, brooms, paint brushes, and special brushes used in the medical field.