Boucherie Machine Range for Production of Wooden Toothbrushes
Wooden and bamboo toothbrushes are becoming popular because they are eco-friendly and most of the brush is biodegradable. Shaping these handles from a piece of wood or bamboo is certainly a high-precision job, and the drilling of the holes for the tufts has to be precise and consistent. Furthermore, it is challenging to obtain a sufficient tuft retention in this natural material. To have the industry face these new challenges, Boucherie has developed a complete range of specialized machinery: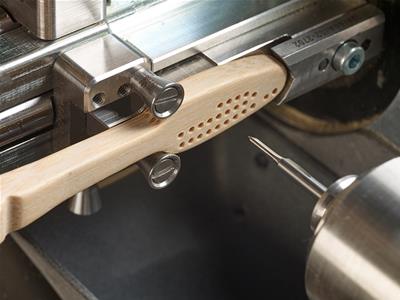 The
DR-A drilling machine
is an economical solution for toothbrush makers who wish to drill on one machine, and then tuft the brushes on an existing machine. In this fashion, existing machinery can be used to limit the investment while still testing this interesting segment of the market. A
high productivity
is part of the deal with the speed of up to 900 holes per minute. A high-performance exhaust system instantly removes any drill chips or dust from the handles, in order to keep the product hygiene at the highest possible level.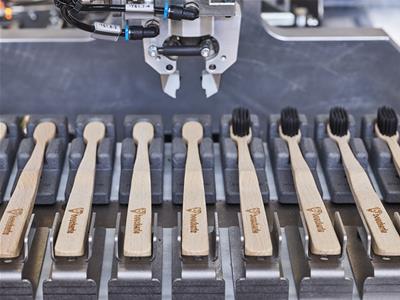 The
Hepta-DR
will
drill and fill the brushes without re-clamping
: the wooden handles are brought into the machine manually or automatically, and they are clamped on the turret. There, the holes are drilled and the tufts are inserted without taking the brush out of the clamp, so that any inaccuracies in the shape of the wooden handles are less important. In order to have a higher and more consistent tuft retention, this machine can be equipped with a CNC controlled anchor insertion angle, so that the anchor plate is cutting into the grain of the wood. This machine can process tapered filaments, regular cylindrical filament, or natural materials.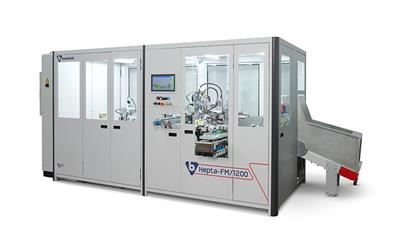 The same drill head as is used on the Hepta-DR can also be integrated into a
Hepta-FM
toothbrush machine. Of course,
product hygiene
is kept at the highest level by means of a powerful exhaust system and instant removal of the wood debris that is inevitably generated during the drilling process. The Hepta-FM with the drill head can then be used as a machine for wooden toothbrushes or, merely by switching off the drill head, can be used as a
high-performance automatic
toothbrush machine for the production of standard plastic toothbrushes, running at
up to 1200 tufts per minute
. Marking on the handle can be performed in a very efficient and flexible way by means of integrated lasers.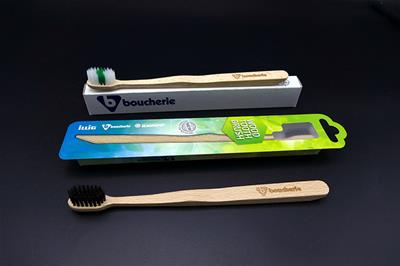 The package of machinery for more ecological products is complete with the
Illig HSU 35 packaging machine for full carton blisters
, and with the
carton-folding machine CM-A
, both of which can be used as stand-alone packaging machines or in a configuration integrated with the Hepta-FM.
Boucherie Machine Range for Production of Wooden Toothbrushes