The FootMate® System from Gordon Brush®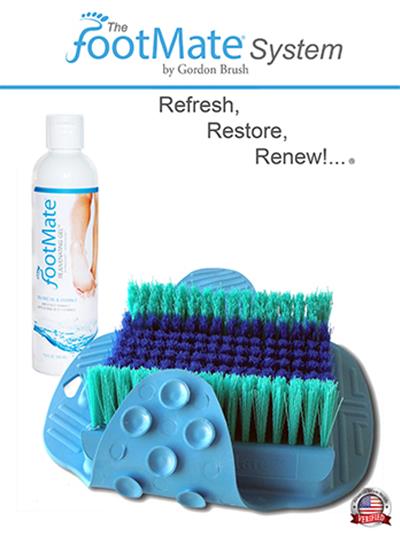 Foot care is a daily challenge, but the 100% American made, Podiatrist recommended FootMate® System makes optimal foot health easy. It is a complete foot transformation® system for cleaning, soothing, stimulating, and massaging your feet every time you shower. Your feet take you everywhere, so treat them right!...® The FootMate® System is a brush and specially formulated gel that goes in the bath or shower to clean and massage your feet without having to bend over.
The FootMate's wide, gentle inner bristles massage your tender soles, while the stiffer outer bristles smooth rough skin and calluses, and stimulate circulation. With circulation stimulated, your feet will feel great. The FootMate® System is good for your health as well as your Soul. The FootMate® System's Rejuvenating Gel™ and Rejuvenating Cream™ contain Tea Tree Oil, a natural antiseptic, antifungal, aloe, moisturizers, conditioners, and Vitamin E. The products contain NO: Parabens, SLS, Petrolatum, Synthetic Fragrances, EDTA, Artificial Colors or Phthalates.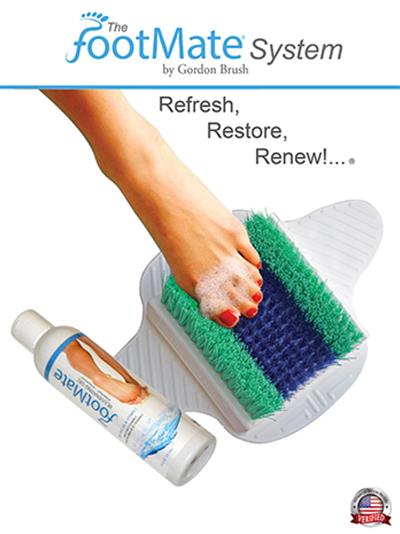 The FootMate® System is for anyone who wants to experience the benefits of a soothing foot massage while taking better care of their feet- people with diabetes, arthritis, back pain, athletes, pregnant women, etc. Rather than waiting for your feet to experience the rigors of daily life, our goal is to help you maintain the best possible foot health before foot issues occur!
The Footmate® System by Gordon Brush® is an American Made Beauty Verified product and endorsed by the American College of Foot & Ankle Orthopedics & Medicine (ACFAOM), a specialty organization that is part of the American Podiatric Medical Association (APMA).
The FootMate® System is proudly made in the United States of quality mildew and stain resistant materials.
The contoured brush design of the FootMate® System cradles the foot for comfortable positioning and contains:
Over 11,000 bristles contoured to cradle foot
Soft inner bristles to gently massage tender areas of the foot
Stiff outer bristles to smooth rough and/or dry skin
Suction cups to help keep the FootMate® in place during use
Footpads on either side to insure the FootMate® stays in place on surfaces where suction cups won't easily adhere
Anti-skid surface helps insure balance
Mildew resistant retrieval rope allows easy lifting of the FootMate® from the shower or bath eliminating bending or stooping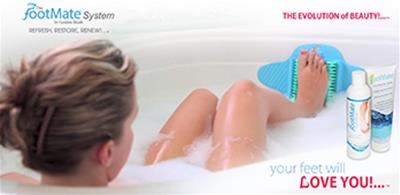 The FootMate® System is the ultimate foot massage and the perfect way to pamper your tired, aching feet. Refresh, Restore, Renew!…® Your feet will Love You!...® It's the Evolution of Beauty®
by Alan Schechter