Gordon Brush Looks Forward to the 2017 ABMA Annual Convention
"2016 was a phenomenal year for us at Gordon Brush®", said Ken Rakusin, President and CEO. "In March, the Company moved into its new 183,000 sq. ft. facility in the City of Industry, California, and in May, it relocated its Milwaukee Dustless Brush division to the California facility. This state of the art facility will provide sufficient room for the Company's growth and expansion plans for years to come", added Rakusin. The Company held its open house it September showing off its new facility to over 300 guests.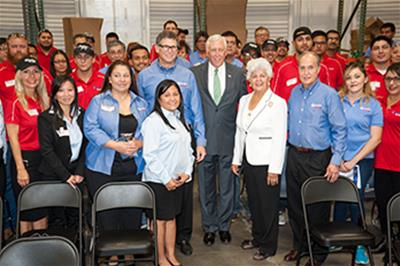 During the year, the Company made two acquisitions: StaticFaction and J.B. Ward & Sons. StaticFaction, is the sole, exclusive, authorized North American distributor of Thunderon® anti-static products, including Tape, Cactus®, Pile, Yarn, Filament, Rope, Corona CordTM, TwiststatTM, and Fabric.
J.B. Ward manufactures a premium line of custom brushes for a variety of industries including: pharmaceutical; graphic arts; electronics; textile; and rubber. "The acquisitions make perfect sense for Gordon Brush for two reasons. First, 50% of Gordon Brush's business comes from the manufacture of custom brushes. By adding additional technology, Gordon Brush can now include an entirely new line of custom brushes to its repertoire. Second, the acquisitions bolster and support the Company's line of antistatic brushes for many industries including: electronic, printing, and packaging", commented Rakusin.
In August, Gordon Brush® hosted Congresswoman Grace Napolitano and House Democratic Whip Steny Hoyer. The Company was selected because of its steadfast commitment to manufacturing in the United States even under competitive threats and because it dovetailed Whip Hoyer's Make It In America initiative, supporting companies and organizations promoting American manufacturing and American-made goods. "Gordon Brush was honored to have Congresswoman Napolitano and Democratic Whip Hoyer toured our facility," says Gordon Brush's Rakusin. "We are thrilled that they share our commitment to supporting American manufacturers,
In the first quarter of 2017, Gordon Brush® will unveil its state-of-the-art re-engineered website featuring "Multi-Dynamic Faceted Navigation" and an updated eCommerce platform for an easy, secure, fast, safe, and reliable check-out.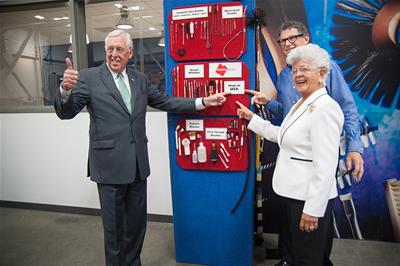 Even with all of these activities, Gordon Brush's philosophy of improving the quality of our customer's products through excellence in design, functionality, and customer service has never wavered", added Rakusin. As an American manufacturer, we offer same-day shipping on over 2,000 standard brushes and quick turn-around on custom or specialty brushes. The Company helps its customers improve their productivity and profitability by providing them with high quality brushes which suit their exact requirements for a variety of industries including medical, electronics, manufacturing, military, aerospace, and pharmaceutical.
Gordon Brush salutes the ABMA on its 100th Anniversary. "Membership in ABMA remains an integral component in Gordon Brush's strategy of being an industry leader", said Rakusin. "Sharing ideas and insights with my colleagues, helps us to define best practices that will enable Gordon Brush to continue on its growth path. After every ABMA meeting, I feel invigorated about the state of the brush industry and Gordon Brush's place within it", added Rakusin.
Gordon Brush Image Gallery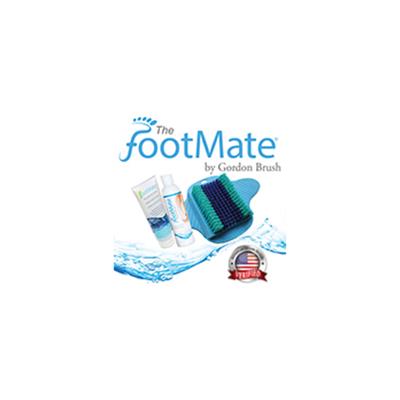 The FootMate® System by Gordon Brush continues its meteoric increase in sales as the product is being distributed through many channels in the personal care, health, wellness, and beauty space. The product was appeared on the Today Show, the Fox syndicated television show, The Real; in Cosmopolitan Germany; in a video promoted by Business Insider Innovations that received over 6.2 million views on Facebook; made the list of one of the best American made beauty gifts according to USA Love List; a 2016 Best Seller according to Beauty BusinessStore.com; and was seen in the presence of comedienne Jane Lynch, Emmy Award winner Patrika Darbo, Glee actress Dot Marie, and former Atlanta Falcons linebacker Kroy Biermann.
The Milwaukee Dustless Brush Seat Sweep® broom, introduced at the 2014 ISSA/InterClean Show is now being used in major league ball parks, theaters, and various other venues, both outdoor and indoor.
Gordon Brush Mfg. Co., Inc., is an ISO 9001:2008 certified American manufacturer of brooms and brushes. Established in 1951, Gordon Brush® includes two brands whose origin dates back to 1855 (J. B. Ward) and 1897 (Milwaukee Dustless Brush). All told, the Company is comprised of seven brands. Gordon Brush® manufactures the FootMate® System and over 15,000 standard and custom brushes, selling to a multitude of industries including: janitorial, medical, electronics, manufacturing, military, aerospace, and pharmaceutical in its state-of-the-art, 183,000 sq. ft. manufacturing facility in the City of Industry, CA.
Gordon Brush® has made brushes for the United States Army to clean the main gun on the Abrams tanks, saving the Department of Defense over $1.5 billion. The Company also has made brushes that were used on the space shuttle, the lunar module, and brushes to clean the guidance system and guns on the Apache helicopter. Gordon Brush® manufactures brushes that grow microorganisms used as alternative energy sources; that are used by the FBI for fingerprinting crimes scenes; and for complex circuit boards in the computer industry. Gordon Brush® has patents pending on stadium sweepers that are changing the way America cleans its greatest sports stadiums and theatre chains.
Gordon Brush® has been featured on the ION Network, Discovery Channel, Bloomberg News, and in the Los Angeles Times. The FootMate® System has been featured on the Today Show and The Real TV Show, as well as in online magazines: People.com: "Stuff We Love;" CNN.com: "The Short List for Buying American;" Cosmopolitan Germany: "Beautiful Feet for the Warm Days!;" Drug Store News; Bisous Magazine; Posh Beauty; Milk & Honey; and Beauty Store Business. The Company has also received Congressional Recognition from Congresswoman Grace Napolitano, United States Congressional District 32 and California State Senate Recognition from State Senator Bob Huff, California Senate District 29.
Gordon Brush and its family of companies pride ourselves in being partners to your success. Whatever your application, our engineering team can design and manufacture a custom brush to do the job or can modify any standard brush to your exact specifications: if a brush exists, we have it... if it doesn't exist, we'll make it™. Gordon Brush…Bigger Better Brush Ideas.