ABMA Celebrates Founding Member Fuller Brush (Fuller Industries)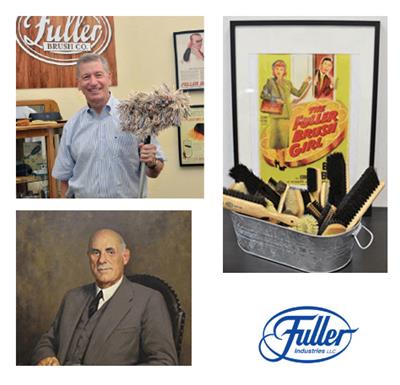 A manufacturing business that boasts cartoon characters, a couple of Hollywood movies, and a colorful array of former employees could be none other than 110-year-old Fuller Brush Company. While they are also "experts in the design and manufacturing of customized brush products for a diverse range of industries," the Fuller Brush Company also introduced the world to America's most iconic salesperson: The Fuller Brush Man.
Perhaps lost on millennials, the baby-boomer generation and those who came before remember well the Fuller Brush Man on the doorstep with his "seemingly magical suitcase of products and tales," beaming the classic line, "I'm your Fuller Brush Man!"
The original Fuller Brush Man was 21-year-old Alfred Carl Fuller, who launched his door-to-door brush sales business from his sister's chilly basement in Massachusetts with a mere $375. He would spend his night's making brushes, trying to keep warm by the furnace, and embark on his sales route during the day with products he considered to be the best of their kind.
In these early years of the Capital Brush Company (as it used to be called), Fuller developed a collection of innovative products and manufacturing techniques, including a hairbrush backed by a lifetime guarantee. These high-quality products made it easier for Fuller to establish his unique strategy of utilizing skilled door-to-door salesmen.
But his sales team wasn't just made up of men. In fact, the premier female Fuller representative was Alfred's wife, Evelyn, who outsold him her first day on the job - and almost every day after that for the next two years.
By 1915, there were 1,000 men selling Fuller brushes door-to-door. In a 1922 article in The Saturday Evening Post, this smiling crew received the title they'd be stuck with forever: The Fuller Brush Man. From this point forward, pop culture took over and the Fuller Brush Man began to appear in comic strips, like Blondie and Mickey Mouse, and eventually movies, magazines and songs.
In 1923, the Fuller Brush Company moved to Hartford, Connecticut, founding the largest brush manufacturing facility in the world at that time. As the 20th century rolled on, Fuller adapted to the times and demands of consumers but always stuck with his credo: "make it work, make it last, and guarantee it, no matter what."
By the inception of World War II, the Fuller Brush Company moved beyond manufacturing "normal civilian output" items.
"A big uptick in industrial manufacturing started in the 30's," explains Lisa Moeder, director of custom products for Fuller Industries. "They added the large industrial brushes to work on machines, and, during the War, they made gun brushes."
Roughly 40-million Fuller Brushes were used to clean weapons during the 1940's.
In 1943, Alfred's son, Howard, took over the company as president, and in 1948, Howard sent out another army of salespeople. But this time, in the spirit of Alfred's wife, Evelyn, this entourage was not made of men but instead of women, called the Fullerettes. These proven talents pitched cosmetic and hairstyling products, and all prospective customers received a free lipstick.
"You know the old saying, 'if you want to get it done, hire a woman,'" laughs Lew Gray, vice president of operations for Fuller Industries. "Howard recognized they could no long depend on men - and that women were the primary buyers. But it was interesting because only 10- to 20-percent of women were working outside the home in the 1950's."
Also in 1948, Red Skelton starred in "The Fuller Brush Man," followed two years later by "The Fuller Brush Girl" featuring Lucille Ball. Meanwhile, a host of characters also joined the Fuller Brush Man legacy, like Dick Clark, Joe DiMaggio, and Billy Graham, who famously touted that he outsold "every other salesman in North Carolina." Later, actors Dennis Quaid and Paul Reubens (Pee-Wee Herman) also served as Fuller Brush Men.
"You'd be surprised with the percentage of professional salespersons who started out selling Fuller Brushes," says Gray, who's been with Fuller Brush since 1974. "In its heyday, [Fuller Brush Men] were up in the hundreds of thousands."
But with the introduction of the mail catalogue business and aggressive retail merchandising at locations, like K-Mart and eventually Wal-Mart, the need for the Fuller Brush Man dissipated. Perhaps the single biggest reason door-to-door sales all but disappeared is not due to the internet but rather to the fact that women who were formerly always home had joined the workforce.
"They're still out there," says Gray of door-to-door Fuller Brush salesmen. "But today they have different means."
In 1972, Fuller Brush moved from the east coast to the heart of America in Great Bend, Kansas. And in 2013, David Sabin and Victory Park Capitol purchased Fuller Brush and left the state-of-the-art manufacturing facility to be run as Fuller Industries (the technical branch of Fuller), and took the Fuller Brush Company to business-headquarters in Napa, California.
Both the Fuller Brush Company and Fuller Industries still herald Alfred's emphatic tone of celebrating a gregarious company built on the idea of keeping people as the central focus. Over the last century, the company has grown "from one man's fiber suitcase filled with unique, custom-made brushes to an exciting collection of home, business, car and personal care products, all crafted with the same quality and precision that have made The Fuller Brush Company a name welcomed everywhere."
And, as Gray reminds us, the Fuller Brush Man's legacy lives on. In 2014, the Fuller Company even launched a series of youtube webisodes on the modern-day Fuller Brush Man. And Fuller Industries has a renewed energy to seek out fresh opportunities, something they see the American Brush Manufacturers Association (ABMA) as playing a major role in for their future growth potential.
"There's a reemphasis on expanding the business to new areas," says Gray. "We went as far as we can on push brooms, hairbrushes and mundane-type brushes. We're now looking more to expand. The networking aspect of the ABMA is very important to us, as they help address common issues and problems that we all face as manufacturers."
"We wanted to meet other brush companies and other suppliers," says Moeder. "Lots of times you can reach out to others if there's something you can't do. You find other companies that specialize in that. We've met a lot of our suppliers through the ABMA. It's a good resource."
The original Fuller Brush Man would be pleased as punch to hear that his personable ideals thrive over a hundred years after those first brushes were pieced together. Thanks for your support of the ABMA, Fuller Brush! We look forward to another hundred years!