The DMU from Boucherie Borghi Group: Efficient, Simple and Flexible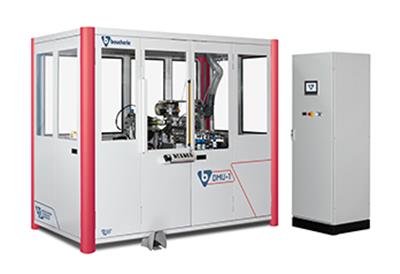 The DMU-1 machine is aimed at manufacturers of lower volume, high-quality brushes and "fine brushware", such as hairbrushes and other personal brushes. This machine has a short-stroke filling tool and a high-precision picking system. High quality, small brushware of maximum variety can be manufactured with high efficiency: round, half-round and flat hairbrushes, rubber pads, bath brushes and single or double-sided nailbrushes. To make this the most versatile and practical machine possible for this segment of the market, attention was paid to several key design features: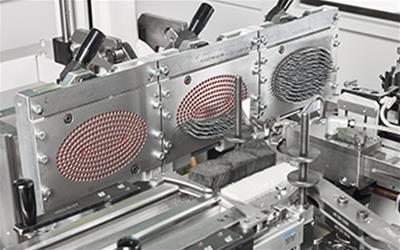 Efficiency
: To make the change-over between different products as quick and simple as possible, the machine only has one single clamping station: changing clamping parts and the underplate takes only minutes. Furthermore, the clamps have a generous movement, so a large variety of brush blocks can be held in the same clamp. An independent self-centering clamping unit holds each brush block precisely and securely on each side.
Simple tooling: An additional advantage of the single-clamp system is that it is extremely easy to make new tooling for special brushes: the combination of the DMU's precise CNC controls and the single set of clamping parts guarantees perfect repeatability, which is an important point for high-precision brushes with smaller tuft diameters.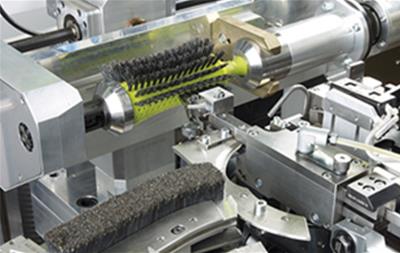 Simple operation
: Once it is clamped, the brush block is drilled, and immediately after that, without any need for intervention by the operator and without leaving its clamp, it is tufted. The operator can then change the tufted brush for a new block in perfect safety.
Universal: The widest range of products can be manufactured: generous distances of parallel filling are available in both length as well as width direction, and even the standard brush holder frame allows a flare of 90° in each direction. Quick-change brush holder frames are available for round or half-round hairbrushes.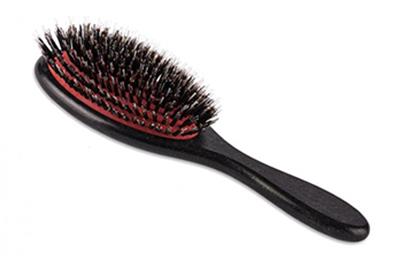 Flexible
: The fiberbox is straight and wide, so that the widest range of filaments can be used. Natural filling material and animal hair (pig bristle, cow hair, goat hair, horse hair, …) as well as the widest range of synthetic filaments can be processed (including mixes of the different kinds of fiber). Picking is excellent because of the small radius picker.
Affordable: No effort has been spared to make a machine that is built to last for many years. The DMU base has a generously dimensioned frame for stability and durability. Programming offline by means of the sophisticated WinBrush software allows the run-time efficiency of the machine to be optimal. Euro for Euro, the DMU is worth every cent of its investment.
Some automation options are also available for medium production runs, such as a stack hopper for the blocks.
For more information, contact the Boucherie Borghi group via the company name link below where you will find full contact details, email and web links: