ZAHORANSKY Brush and Broom Machines for Hygienic Measures
---
It's all about hygiene
---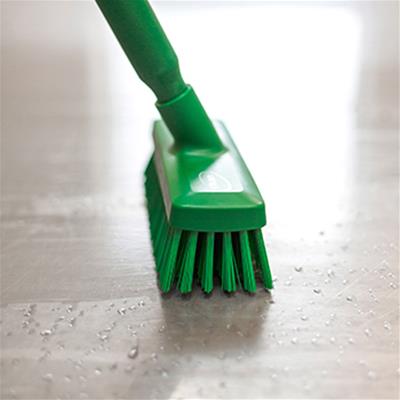 What do food producers, restaurants, butchers, bakers, hospitals, swimming pools, and pharmaceutical manufacturers have in common? The answer is simple: all these companies must comply with strict demands and regulations on hygiene standards in their daily operations. When handling food, this applies at every stage – from processing to sales. These companies additionally are required to observe the HACCP guidelines (Hazard Analysis Critical Control Points). Hygiene brushes and brooms, among other tools, are used to keep systems, machines, production halls, wet rooms, and other areas pristine or to clean foodstuffs. These must meet significantly more discerning specifications than scrubbers used at home.
This is where the brush and broom machines of ZAHORANSKY show their strength. Whether this regards special component geometries, ruggedness, temperature resistance, rust resistance, anti-bacterial material additives, or special colour coding systems such as uniform body and brush colouring for special applications: ZAHORANSKY offers high-end technologies for the production of hygienic brushes to ensure that manufacturers can supply their customers with quality products.
Not all hygienic brushes are created equal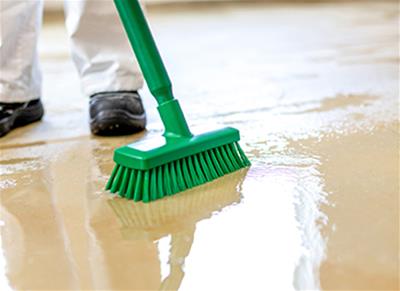 Roller brushes used for the industrial washing of foods or cleaning brushes used in clinics must have different properties than special brushes used to clean processing facilities for drug production. "Depending on the purpose of use, they must resist high temperatures or chemicals. In other words, the materials used for the bodies and filaments must be designed accordingly. Various cleaning tasks also require special material additions," explains Nico Montaleone, Product Sales Manager Household, Technical Brushes, Cosmetics at ZAHORANSKY AG. A good example are brushes used to service production lines in the pharmaceutical industry. To makes sure that no screws or other metal objects remain in the system's cleanroom after servicing, slightly magnetic brushes are used that directly pick up the pieces during cleaning.
Secure food processing
"Due to the special requirements and strict regulations placed on their production, hygienic brushes may only be produced by appropriately certified companies. The customer-specific configuration of our brush and broom machines assists manufacturers in meeting the set standards," says Montaleone. Other brushes that must have special properties are, for example, those that come into contact with food such as fruit, vegetables, or meat. They must be rustproof and unable to lose bristles during use. ZAHORANSKY machines come with special options to ensure this. On the one hand, a feature is offered to process snare wire, which is usually rustproof, with which filaments are anchored into the hole. Additionally, the optional "tuft control" feature controls the tufting pressure of the individual bundles during the tufting process to ensure that the brushes are tufted with consistent quality and won't lose filaments later on during use.
"This feature is offered exclusively by ZAHORANSKY and provides our customers with further security and quality control," explains Montaleone. Integrated in machines like the Z.WASP is the 3D-BRUSHDESIGNER for programming the brush design without programming knowledge. As a result, a trophy brush is designed, programmed and produced in 10 minutes. Then up to 700 bundles/minute can be processed.

From the Z.TIGER to the Z.PARD, Z.LION, Z.WASP, and Z.LYNX, down to the Z.SPIDER and Z.SAILFIN: With a long-standing experience and collaboration with reputable manufacturers, ZAHORANSKY equips each brush and broom machine to meet the hygiene specifications of any customer!
For more information about ZAHORANSKY and its vast array of machinery for broom and mop production, please click the company name link below: