Borghi USA Promotes Miguel Medrano to Director of Marketing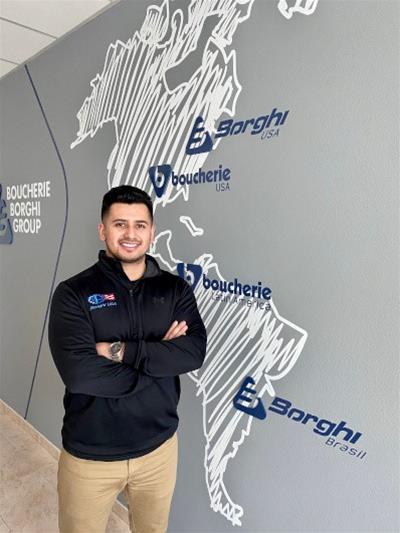 Borghi USA, Inc. has announced Miguel Medrano as their new Director of Marketing as of the beginning of this year. In his role, Miguel will oversee marketing communications and sales of machinery for all brands under the Boucherie Borghi Group (Boucherie, Borghi & Unimac). Medrano will work closely with Borghi USA President, Carlos Petzold to learn about the manufacturing technology needs of the Brush Industry to help provide customers with the very best machinery and automation from the Boucherie Borghi Group.
Medrano served as Spare Parts Manager and worked in customer service for the last three years at Borghi USA. During this time, he supplied spare parts to all customers, managed inventory and purchasing for over 20,000 spare parts in stock at Borghi USA as well as providing support to all aspects of customer service. Medrano also worked at Borghi S.p.a. in Italy, with their marketing department as a marketing specialist developing digital marketing campaigns using digital tools such as Google AdWords and Facebook Ad, etc. as well as applying other new concepts to engage, support and enhance communication with customers. Miguel wants to continue to learn and grow in the brush industry to become more involved in machinery sales.
"With Miguel's strong work ethic to learn the brush industry from the ground up, coupled with his studies in International Business and his recent accomplishment, receiving his Management Degree from Towson University, Borghi USA sees a great opportunity to improve the quality of the service and offerings that Borghi USA can provide customers. The infusion of new, young members to our team brings an enthusiasm and a fresh viewpoint that we harness to benefit our customers," says Petzold.
For more information, please click the link below: