Winfried Ebner to become third Board Member at ZAHORANSKY AG

Winfried Ebner will be added as a third member to the board of directors at ZAHORANSKY AG from April 1st, 2019.
Headquartered in the Black Forest town of Todtnau-Geschwend in the state of Baden- Wuerttemberg, ZAHORANSKY is an internationally active full-service provider in machine engineering as well as injection molding and automation technology. Services include the integration of packing technology, handling, programming, and robotics in the construction of fully automated production and assembly lines for household and industry brushes, dental hygiene, medical technology, cosmetics, mold construction, and packaging. With Ebner's appointment, ZAHORANSKY strives to push forward the expansion of the new business fields Industry Automation and Medical Technology.
"With the appointment of Winfried Ebner, we envision a faster and more targeted development of our new business fields. He is highly familiar with our technology, product portfolio, and target group markets", explains Gerhard Enders, Chairman of the Board, when asked about the decision to add another board member. Ebner has been the Managing Director of the Mold Construction subsidiaries ZAHORANSKY Automation & Molds GmbH in Freiburg im Breisgau and ZAHORANSKY GmbH Mold and Tool Construction in Rothenkirchen.
In this field, Winfried Ebner takes over the responsibilities of Board Member Gerhard Steinebrunner, who will focus on the business areas of Brush Production and Packaging Machines in future. Board Member Ulrich Zahoransky continues to oversee the commercial activities and sales of ZAHORANSKY AG. The three board members are delighted to work together in driving the development of ZAHORANSKY to the benefit of its customers and partners.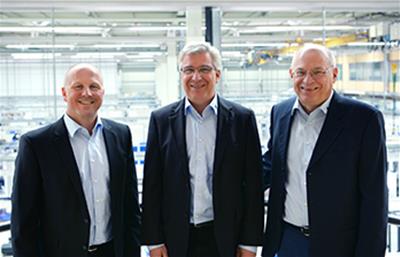 (Pictured from left to right: Gerhard Steinebrunner, Winfried Ebner, and Ulrich Zahoransky)