Borghi Brasil – The First Open House

On April 16th and 17th 2018 Borghi Brasil, a subsidiary of the Boucherie Borghi Group, opened its factory to all local customers. Although, Borghi Brasil has been active since January 2015, it had not yet officially presented its operational headquarters.
The event was then organized with the aim to show and get to know better the new plant, with completely renovated offices dedicated to the commercial area, a more extensive spare parts warehouse, a mechanical and an electronic laboratory for repairing and technical assistance. The staff is composed of highly skilled technicians, trained at the Borghi spa in Italy and with a minimum of 10 years of experience on all the machines sold in Brazil. Moreover, for the occasion, the filling machine STAR R32 was displayed and put into operation.
Many brush manufacturers attended the event and they were warmly welcomed, not only by the members of the Brazilian headquarters, but also by key figures working in the Borghi spa company in Italy, such as Enzo Ferrari, former President, Paolo Roversi, the current President, Glauco Generali, the Plant Manager and Maurizio Campedelli, the Sales Area Manager.
A special thanks goes to all the members of Borghi Brasil, in particular to the President, Mauricio Mazzoni, who has been working with Borghi spa for over 25 years, Zuleica Galietto - Assistant, Ricardo Budiski - Assistant, Dirceu Perrone - Technician and Leonardo Stefani - Technician. Without their efforts and their support this event would not have been possible.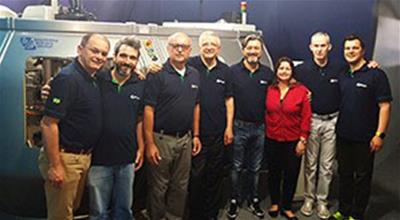 Thanks to all our customers, for your attendance, trust and support.
Aware of its capabilities and coming challenges, Borghi Brasil looks to the future with enthusiasm and optimism, always keeping in mind the clear objective: to ensure the best customer satisfaction.
(Pictured From left: Maurizio Campedelli, Leonardo Stefani, Dirceu Perrone, Enzo Ferrari, Gianpaolo Roversi, Zuleica Galieto, Mauricio Mazzoni and Glauco Generali).
For more info, please click the company name link below: