Boucherie Borghi Group: Giving Household Brush Manufacturers the Technological Advantage
The Boucherie Borghi Group offers technology for every brush maker, in any part of the world, for all kinds of projects, for all budgets. We provide all brush manufacturers with the right solution for their needs, helping steady growth, offering safe investments and providing reliable support.
Meeting customers' requests is a beginning, giving more to them is our promise for the future. After the launch of several new machines at Interbrush 2016, this year, the Boucherie Borghi Group has been totally focusing on the market introduction of the new technologies for all of the various brush manufacturing segments.
For the household brush manufacturing, some machine models that the Group can offer are:

STAR R32
A little step down in automation, a big jump forward in versatility: STAR R32 is a 5-axis carousel machine, with 3 working stations, manual loading/offloading of the brush backs, double drilling station and double filling station. The STAR R32 can produce a very wide range of household brush models and has ergonomically designed guards to ensure the maximum ease of work and safety for the operator. Moreover, STAR R32 ensures versatility, offering a 3-channel fibre stock box for the production of brushes with filaments of 3 different colours.
SMART V2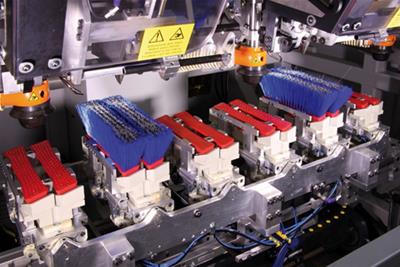 Vertical tufting machines are the best compromise between productivity, ease of use and maintenance and versatility. The SMART V2 is part of a family of double-head, vertical drilling and filling machines, driven by 4 or 5 axes of movement and running in a continuous work-cycle. The SMART V2 is ideal for the production of flat brushes, brooms and round head toilet brushes, at a reduced investment cost.
OVALE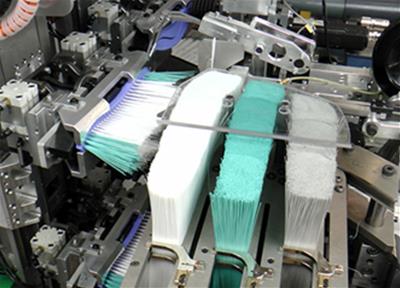 When it comes to big volumes and high automation, the OVALE is the highest-output carrousel machine for the production of household brushes. The OVALE is a truly revolutionary machine in so many aspects: no index time on many brush models and high tufting speed of up to 1200 tufts per minute for higher output, a very quick and easy to load handle feeding conveyor with orientation feature and automatic positioning available, electronic trimming controlled by means of servomotors, and excellent accessibility for change-over and maintenance. The operator workspace is kept compact, with a well-thought-out layout, which adds to the overall efficiency and safety of the machine.
For more information regarding Boucherie Borghi Group and its impressive range of machinery for the brush industry, please click the company name links below:
Boucherie Borghi Group - Machines for Production of Household Brushes