GIOTTO… A Masterpiece of Design and a work of Art for the production of Technical Brushes
The BOUCHERIE BORGHI GROUP continues to modernize their innovations in the technical and industrial brush manufacturing industry. Keeping efficiency, optimization, and production workload in mind the freshly designed GIOTTO graciously triumphs in all aspects.
The efficiently designed GIOTTO was invented specifically for manufacturing high volumes of disc, cylinder, and lag brushes. Its optimal performance is thanks to three automatic rotating stations: loading/unloading; drilling; and filling – which generates exceedingly dynamic production levels.
As the operator loads virgin discs at one station and off-loads finished disc brushes, the drilling and filling operations are being carried-out without interruptions on the other two stations resulting in an effortless continuous operational process. The GIOTTO comes completed with a PC Controlled Trimmer Unit for a quality finished brush to complete the working cycle.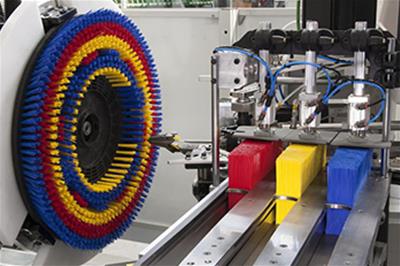 This automatic three station carrousel machine with one filling tool and one drill incorporates a versatile fiber feeding system. A stock box built with the capability for synthetic filaments up to three different colors to produce a brush that truly stands out.
Additionally, the GIOTTO can also be equipped with our automatic feeding system to reduce the production work-load for all operators. The GIOTTO is accessible with a standard mechanical filling head or with e-STROKE Technology, BORGHI's patented electronic filling head.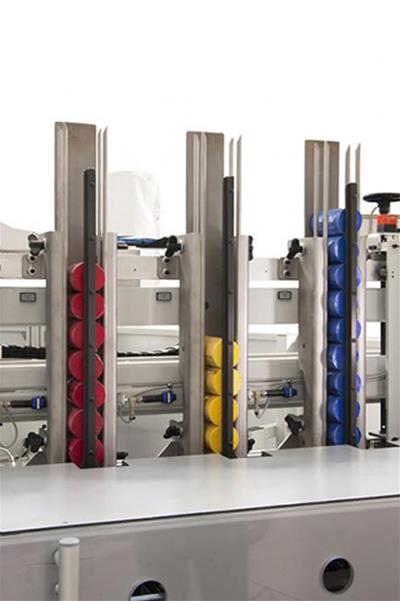 The e-STROKE with K.E.R.S, uses motors instead of the traditional mechanical cams which allows for the machine to be speed efficient in a wide range of fiber lengths. Less mechanical parts ensure less wear and tear over time.
Not to mention, it uses a Kinetic Energy Recovery System (K.E.R.S) which saves up to 40% in electricity consumption. This Green Technology will allow it to run at the highest speeds possible while using less energy.
For more information, please contact the Boucherie Borghi Group!