More Exhibitors and Visitors at the Consumer-Goods Fairs in Frankfurt Final Report
Both manufacturers and retailers have made a successful start to the new business season at the Christmasworld, Paperworld and Creativeworld consumer-goods fairs, as well as at Floradecora, the floral market place. A total of 3,023 exhibitors from 69 countries (2017: 2,920 exhibitors from 63 countries1) presented their latest festive and seasonal decorations, fresh flowers and plants, paper, office supplies and stationery, and hobby, art and craft supplies to the national and international trade. Altogether, around 87,000 visitors from 162 countries (2017: 85,448), an increase of two percent, made their way to Frankfurt to discover trends and top themes to boost their business in the future.
"Stimulated by a good economic climate, five intensive days at the consumer-goods fairs ended with full order books, new business impulses and a great atmosphere", said Detlef Braun, Member of the Executive Board of Messe Frankfurt. "The further increase in exhibitor and visitor numbers confirmed that the relevant segments of the world's consumer-goods markets are at home in Frankfurt am Main. Our consumer-goods fairs are distinguished by a very high level of internationality, which rose from 62 to 65 percent on the visitor side and to 82 percent on the exhibitor side." After Germany, the top European visitor nations were Italy, France, the Netherlands, the United Kingdom and Poland. Particularly large increases were registered from the USA, Brazil, Russia, China and Turkey.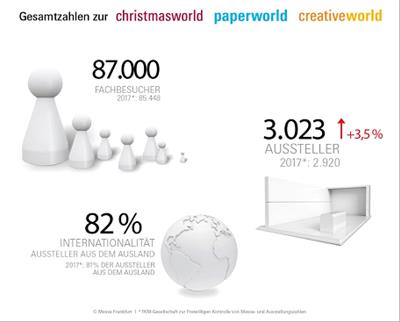 Meeting place for the "sector's best"
All sales channels – from the classic retail trade, the wholesale trade and the import/export trades to the mail-order and online trades – were represented. Numerous exhibitors emphasised the high visitor standard with many purchasing decision makers, three quarters of whom are executives or come from the top managerial echelon. "The sector's best come to Frankfurt. Here, we encounter a very trend and design-oriented group of buyers who are looking for something special and attractive for their high-grade assortments", said Floradecora exhibitor Jan de Boer, Barendsen. Confirming this, Klaus Müller-Blech, Inge´s Christmas Décor, said, "We had lots of international visitors, especially from South and East Europe. The standard of visitors at Christmasworld is outstanding and business could hardly be better." Kirsten Rohde, Marabu, seconded this saying, "Both the standard and the number of visitors are top – at Creativeworld, we encounter a super audience of trade visitors from all over the world." Beth Wright, Chief Commercial Officer, Bi-Silque, also pointed out that, "Paperworld is the European trade fair we use to findnew target groups and make new contacts, and to present our latest products to our best customers."
This positive echo shows that Frankfurt is not only the international market place for innovations but also an indispensable business platform for the exchange of ideas and information on a personal plane. "Nowhere else in Europe can you discover the latest trends for the season in a more compact and topical form than at Christmasworld.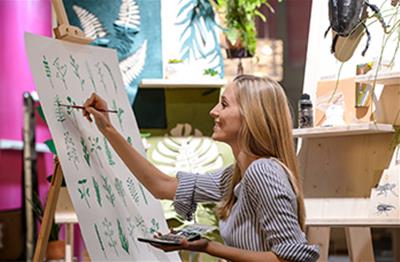 Visiting the fair in Frankfurt is a top priority for both German and Central European retailers", said Thomas Grothkopp, German Home and Office Association (Bundesverband Wohnen und Büro e.V. – BWB). Talking about Paperworld, Grothkopp added, "It offers not only a huge spectrum of different products but also a high degree of internationality, which benefits both the specialist retail trade and the concurrent Creativeworld and Christmasworld trade fairs. This is rounded off by events and special shows, especially the Future Office exhibition, which increases awareness of health at work and is thus a source of inspiration for the whole sector."
Fresh impulses for the trade
In the poll of visitors, over 90 percent of trade visitors said they were very pleased with the spectrum of products and manufacturers, as well as with the fairs themselves. The extensive range of products, the overview of the latest trends, the future-oriented special presentations and the workshops make buyers from all over the world fit for the coming season.
This year's consumer-goods fairs were dominated by botany – plants, leaves, cacti and beetles are trending – as reflected by a host of high- grade designs and materials, especially in dark blue and green with gold accents.
At Paperworld, this trend was to be seen decorating notebooks, files and accessories for the private workplace. The top theme in the field of commercial office supplies is health for body and soul, and was vividly explained via products and lectures at the 'Future Office' special show.
At Creativeworld, the focus was on well-being and stylish 'hygge' cosiness. With XXL yarn and mini-gardening, dwellings can be turned into individually designed sanctuaries. Creative personalities from all over the world find inspiration in natural and maritime themes.
Additionally, the trend themes of street art and hand lettering were to be seen in an unrivalled abundance. The combination of different techniques and materials shows that graffiti and calligraphy on both porcelain and fabrics, as well as on walls and other surfaces, are ideal for creating special highlights.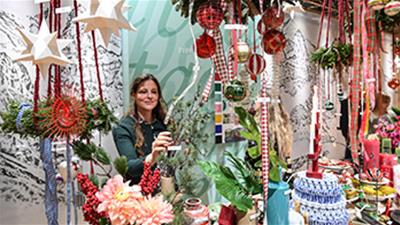 Christmas and seasonal decorations also draw great inspiration from flora and fauna. Peacocks, marine animals and jungle motifs were omnipresent at Christmasworld. Driving forces for sales in the conventional trade are emotional settings with lighting and decorations, as well as convenience offers that make shopping as easy and entertaining as possible for consumers. Much in demand are culinary specialities, which were also given a very good welcome in the new Christmas Delights product segment.
Supplementing the three consumer-goods fairs with genuine green and brilliant flowers was Floradecora in the heart of Christmasworld. The highlight was a display of 40,000 red roses, which attracted no less attention than the lisianthus, orchids, cacti and grasses, which also offer a fresh potential for sales in the retail trade.
As in recent years, next year's consumer-goods fairs will be held around the last Saturday in January:
Christmasworld / Floradecora: 25 to 29 January 2019
Paperworld and Creativeworld: 26 to 29 January 2019