Tendence: Everything planned and provided!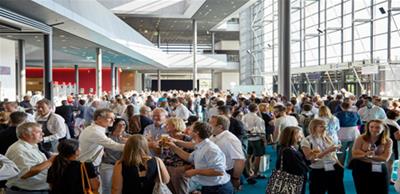 Frankfurt am Main, 30 June to 3 July 2018
It's trade fair time and, for exhibitors and visitors alike, that usually means long days, lots of meetings, social events, and important impetus for your business. To ensure every day of the trade fair gets off to a great start and you enjoy a successful Tendence 2018, Messe Frankfurt is again offering a comprehensive range of services.
Tendence Hotel Package
In cooperation with the Frankfurt Hotel Alliance, Messe Frankfurt's Tendence Hotel Package offers overnight stays from 79 euros per night in nearby 4- to 5-star hotels. Services, which are exclusively for visitors to the international Tendence 2018, include bed and breakfast, a welcome drink, and free Wi-Fi.
Information at your fingertips
The website offers a wealth of information and services. For example, you can buy 4-day tickets quickly, easily and at a reduced online price of € 23. It also offers useful tips on travel, parking, luggage and shuttle services.
The exhibitor search function helps you to find specific information about exhibitors and product groups. An interactive site map helps you to find your way around the exhibition grounds with a minimum of fuss. In addition, the digital event calendar provides information on all the important events taking place at Tendence. The Tendence newsletter gives regular updates on industry trends, special events and general information about the trade fair. Comprehensive wi-fi coverage across the exhibition grounds guarantees simple and free Internet access during your visit. Numerous charging stations are available to revive weary mobile devices and ensure they can be used to the full throughout the trade fair.
Tendence in your pocket
The Tendence Navigator app is a mobile reference book for smartphones and tablets. It provides all the key information you need to find your way around the exhibition grounds as well as trade fair and exhibitor news, event listings, and much more both before and during the trade fair. The app can be downloaded free of charge and is available in German and English.
Get together and connected
All visitors and exhibitors are warmly invited to this year's get-together, immediately after the first day of the fair – 30 June 2018 from 18:00 – to celebrate as you wish and relax at the end of a memorable first day of the trade fair. Tendence invites you to the Portalhaus for delicious finger food, refreshing drinks and lively conversations with old and new contacts.
Tasty breaks – food and drink on the exhibition grounds
Whether you're looking for a quick snack or a serious business lunch, a burger or a vegan meal – the exhibition grounds offer a wide selection of high quality food and drink outlets. In addition to the numerous restaurants, bistros and cafes, there are also food trucks in a variety of locations around the site.
Flat battery? Tendence provides assistance for electric vehicles
Drivers of electric cars can use the vehicle charging points in the nearby Rebstock car park while visiting Tendence. These can be used free of charge during your visit to the trade fair. Note: Normal parking fees apply at the charging points.
Rise to the top in Frankfurt – Frankfurt rooftops
No other city in Germany can match Frankfurt's beautiful skyline. Discover the perfect location to end a long day at a breathtaking height, enjoy cool drinks and fresh cuisine in an exclusive ambience.
Tendence's "must have magazine" gives you the low down on all the top places. Insider tips with a focus on Frankfurt's rooftops are supplied courtesy of local luminary and restaurateur James Ardinast who, together with his brother David, has been making waves in Frankfurt's gastronomic scene for more than ten years. The magazine featuring James' tips is now available.
Last but not least: Tendence meets Gardiente
Trade visitors to Tendence and Gardiente, the trade fair for garden culture which will take place at the same time in Hofheim-Wallau, can benefit from the wide range of products available at both trade fairs this year. Tickets for Tendence and Gardiente are valid at both events. A free shuttle bus service for trade visitors will also operate between Frankfurt and Wallau ensuring a fast and comfortable connection between the two locations.
For more information about Tendence and other events at Messe Frankfurt, please click the link below: