Perfect Preparation for Tendence 2019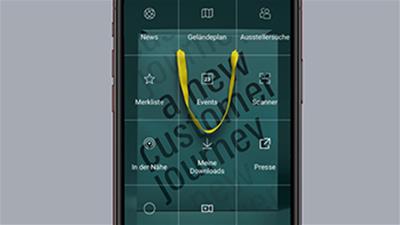 A visit to a trade fair requires thorough preparation. This should include planning the trip, finding your way round the exhibition grounds and meeting the right business partners. To help exhibitors and visitors to have a successful time at the event, Messe Frankfurt is again providing a wide range of services as well as helpful preliminary information.
Looking for a hotel?
One exclusive service for Tendence visitors is a joint project between Messe Frankfurt and the Frankfurt Hotel Alliance. As in previous years, visitors can benefit from an inexpensive accommodation package. They can stay at a range of specially selected 4-star hotels within walking distance of the exhibition centre, starting from as little as EUR 79 per night. Breakfast, a welcome drink and Wi-Fi are included in the price.
The package is also available for anyone wanting to stay for an extra night after Tendence has finished, for example to attend the Pioneers of Lifestyle conference or to explore Frankfurt.
Combining digital and analogue
A visit to a modern trade fair nowadays involves a perfect combination of analogue and digital. One example is the Tendence Navigator app, which can be downloaded for free from the App Store or Google Play from mid-May onwards. The app can be used on a smartphone or a tablet and is a superb mobile reference guide that helps users find their bearings at the exhibition centre and provides event information, trade fair news and much more.
Very handy: with Messe Frankfurt's Wi-Fi available throughout the exhibition grounds, visitors to Tendence can surf the internet for free. There is also a chargeable premium option for anyone who wants to be sure of a connection which is free from interference and continually available. Messe Frankfurt also recommends the social media presentations of Tendence on Facebook and Twitter, the Tendence Newsletter and a good look at the Tendence website. The latter provides visitors with useful information to help them prepare as well as indispensable support for the trade fair itself. Here are some examples: The Tendence Season Ticket is a good way to save time and money and can be bought online in advance, at a discounted price of EUR 23.
Deutsche Bahn Rail travel packages are also available at the online shop. Directions and public transport connections to the exhibition centre can be found under Planning & Preparation.
The best and fastest route from A to B
Tendence 2019 occupies a space of around 57,000 square metres (gross) and will be welcoming around 600 exhibitors to Frankfurt at the end of June. For an overview of the Frankfurt exhibition grounds, it's a good idea to have a look at the interactive hall plan. This is particularly useful for a first visit. In addition, visitors can use the online exhibitor search to work out which exhibitors can be found where. Anyone coming to the trade fair through the Ludwig-Erhard-Anlage entrance can use a fast and convenient shuttle bus to Hall 12.
Time for a break?
The Frankfurt exhibition grounds have a large number of restaurants and snack bars offering a wide range of food and drinks. Two insider tips for Tendence are the Franziskaner Biergarten and the Airstreamer snack bar. The Biergarten, situated outdoors between Halls 8 and 9, offers, for instance, pretzels, sausages, and cool draught lager, leaving nothing to be desired when the weather is hot. Not far from the Biergarten, the Airstreamer snack bar serves, among other things, their highly popular pulled pork in a brioche roll as well as some delicious sandwiches. In Hall 8 the Style City themes – Cosy, Earth, Modern, Urban and Adventure – are also reflected in the available food. Café Earth, for example, will be offering not only European, but also Far Eastern dishes, while the culinary focus at Café Cosy will be, among other things, on sweet and fruity snacks.
Seeing and being seen
On the first night of the trade fair, straight after the presentation of the Frankfurt Style Awards in Hall 8.0 – where all Tendence visitors and exhibitors are welcome – the trade fair team would like to invite everyone to a get-together at the Portalhaus (adjoining Hall 11 to the east of the premises). This is where, from 6 pm, exhibitors and visitors can finish the day in style over drinks and finger food. It will be a good opportunity to have a chat with colleagues from the industry, while enjoying a pleasant atmosphere – even outdoors if the weather is good. Important information for journalists: On the first day of the trade fair there will be no Happy Hour at the Press Centre, due to the presentation of the Frankfurt Style Awards and the get-together.
An opportunity to look at Gardiente and Cosmetica
Anyone with a Tendence admission ticket is welcome to drop in. From 30 June to 2 July 2019 Gardiente, the Trade Fair for Garden Living, is set to showcase numerous innovative products, such as garden furniture, sunshades, barbecues, textiles and accessories. A free shuttle bus will be running at half-hourly intervals between Messe Frankfurt and the exhibition premises in Wallau on the Sunday and the Monday, from 08:30 until 18:00 hrs. Departures will be on the west side of the Portalhaus, and the journey takes between 20 and 30 minutes.
Cosmetica Frankfurt, the Cosmetics Trade Fair, will take place in Hall 3 on 29 and 30 June and will also be open to anyone with a Tendence ticket.
Tendence 2019 will be held from 29 June to 1 July 2019 and will have the following opening times:
29 and 30 June 2019: 09:00 to 18:00 hrs
1 July 2019: 9:00 – 17:00 hrs
For more information, please click the company name link below: