Tendence: Experience the World of the Customer – New Concept for Hall 8.0 and its Marketplaces
Tendence has developed a new concept for Hall 8.0 this year, that of a Style City with different market places and districts. The hall will be set out like a large concept store and has been carefully designed so that visitors can choose products to suit the style of their business – right across all product groups.
Nowadays, retailers need to be proactive and focused in attracting customers. Above all, they need to appeal to their emotions. It's quite simple: The better you align your customer appeal and product range, the happier your customers will be to make impulse purchases, and the more successful you will be. When retailers really understand their customers and their needs, they can appeal to them in exactly the right way and give them the information they require. "This is precisely what we're doing in Hall 8.0. Experiencing it live will be an absolute highlight, because we're entering completely new territory here. The hall will be structured by retail channel, lifestyle and target group and will concentrate even more closely on the needs of the customer. Some visitors may still be wondering what to make of the different styles in the various districts of Hall 8. But I'd still like them to have that experience, so they realise that this is the world of their customers and that they can find something interesting and novel to offer them," comments Philipp Ferger, Group Show Director Tendence.
Moreover, each lifestyle has a specially dedicated marketplace with fashion shows and other events reflecting the style of that district. And the style can also be seen in the food and drinks that are available here. Navigation through the different lifestyles in the hall is greatly helped by colour coding and pictograms. This means that retailers can compile their product ranges at Tendence in a focused way and can then implement them according to the needs of their businesses.
The Modern district features exhibitors such as Casablanca, Handed by and Top Team, with products that are fun-loving, patterned or timeless. Biba, Icrush and Tudi Billo in the Earth district are offering sensory products and a natural look in an ethno style. Buyers in the Urban district will find seasonal highlights that are cool, retro or trendsetting, with companies such as Donkey Products, Good Old Friends and Hübsch.
There is also a separate area in the Urban district which maps the steps that retailers take in finding their own unique business concepts. It has been designed and curated by Retail Academy. The Cosy district features exhibitors such as Chic Antique, Räder and Van Deurs Danmark with simple, romantic and natural products. Anyone who enjoys an extravagant, loud and colourful style will have a great time in the Adventure district where the latest trends are showcased by exhibitors such as Amei, Cedon and Blechfabrik.
Talks, knowledge and special exhibitions
However, Hall 8.0 has an even wider range of creative ideas and inspiring products. It's a place where visitors will find an amazing array of exciting topics that are causing a stir in the industry, including the Tendence Academy, Talents, the Village, Paper & Friends, the Form, the presentation of the Hessian State Award and much more.
Digital platform for retailers
Nextrade is a digital marketplace that adds a new dimension to the placement of orders. Both suppliers and retailers will find out all they need to know about the integrated ordering and data management system Nextrade. A visit to the trade fair would be incomplete without a look at this specially tailored digital platform. And as digital always goes hand in hand with analogue, the pilot version of the digital marketplace Nextrade will go live at Tendence – in Hall 8.0, at stand D10.
Nextrade also includes a new knowledge platform to support the retail trade, giving access to current topics and trends in the industry, as well as specialist know-how and ideas to apply at the POS. Stand D10 in Hall 8.0 will also be providing ideas on how retailers can deliberately encourage customers to gain some hands-on experience with the products on offer.
A joint marketplace gives added value: Paper & Friends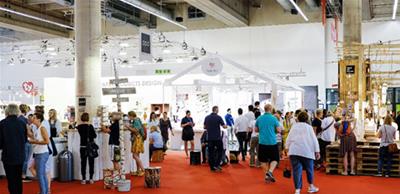 Whether it's cards, stationery, gift books or calendars – the joint stand C80 in Hall 8.0 will be showing a wide variety of attractive product ranges. Yet, despite this diversity, everything adds up to a perfect overall presentation – like in a concept store that has been specially designed for discerning buyers. The stand is curated by Angelika Niesrath who also initiated the Nonbook area of the Frankfurt Book Fair.
Home 4.0 – the Frankfurt Style Awards
Students from international fashion and design schools, craft apprentices and newcomers with their own labels will also be in Hall 8.0 (C10), showing us what fashion might say about our homes and backgrounds. Areas include business, daily life and a variety of lifestyles, such as Urban, Earth and Adventure. On the Saturday at 14:00, 15:00 and 16:00 hrs, fashion shows will be held in the various marketplaces, showcasing the winning projects related to three lifestyles: Urban, Adventure and Earth. Each fashion show will take place in its own district. The award ceremony for the Frankfurt Style Awards will start at 17:00 hrs on the Tendence Academy stage.
Flow: liquid inspiration for a supplementary product range
New distilleries, creative winemakers, and the art of making spirits to please the palate – Flow in Hall 8.0 (B81, B82 and B86) will feature vendors of fine liqueurs with unusual mixed drinks, and there will also be unconventional breweries such as Hoos London Gin, Krugmann Markenspirituosen and Veedel Distillers showcasing their latest drinks. Flow is an ideal source of inspiration for retailers wanting to stock a supplementary product range.
Promotional area run by the German Ministry for Economic Affairs and Energy
Tendence forms part of a promotional programme run by the German Ministry of Economic Affairs and Energy which sponsors innovative German companies, so that they can take part in the trade fair. The programme enables young German companies to attend at a reduced price. This year, companies such as Airpaq, Frischcup, Mintkind, Olaf Riedel, Pericosa - Fashion & SkinCare, Relaxound, Schultheis & Fischer and Simeles are showcasing their innovations, together with numerous enhancements of products, processes and services.
Tendence will be held from 29 June to 1 July 2019. For more information, click the company name link below: